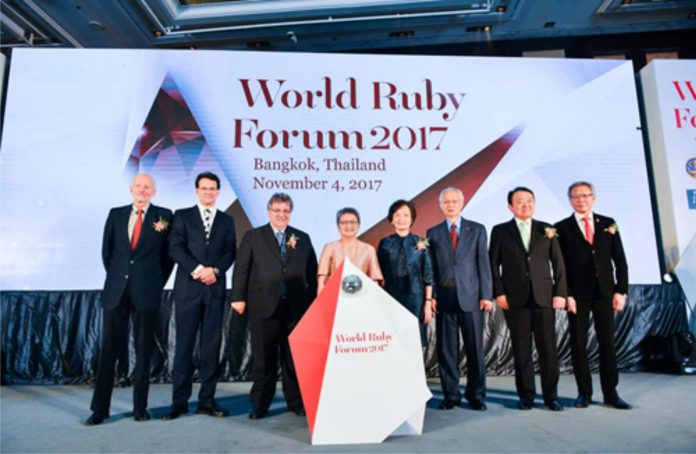 The first ever World Ruby Forum 2017 was held at Bangkok on November 4 and was addressed by a number of experts who provided insights into various different dimensions of global activites across the ruby pipeline. The one-day programme was inaugurated by Mrs. Apiradi Tantraporn, Minister of Commerce, Government of Thailand.
The Forum was organised as a pre-CIBJO Congress event by the Gem and Jewellery Institute of Thailand, (Public Organization), more widely known as GIT, Department of International Trade Promotion, Ministry of Commerce, Government of Thailand, the Asian Institute of Gemmological Sciences (AIGS), AFG and the Jewellery Trade Centre Bangkok.
Speaking at the opening, the Minister highlighted the importance of gemstones to Thailand's economy and the work it provides for 800,000 workers. "The World Ruby Forum 2017 is the first meeting to gather professionals from the world ruby industry. Its key objective is to promote, support, raise awareness and create accurate understanding about the value and beauty of ruby, which is recognized as the king of gems and one of Thailand's key coloured gemstones, to worldwide audiences. The event conforms to the government's policy, which aims to establish ruby as Thailand's most important exported gem, and promote Thailand as the world's gem and jewellery trading centre by 2021."
Addressing the Forum, CIBJO President Dr Gaetano Cavalieri spoke of the need for the industry to work for the upliftment of the mining communities and with governments to develop a system to maintain supply chain integrity. "If we do not act to defend the integrity of the chain of supply, and to demonstrate that we are improving the social and economic well-being of all of our stakeholders, and not only our shareholders, then we could find ourselves in a situation that we are pushed to the side-lines." He called for a framework that will be seen as reasonable by outside stakeholders – governments, unions, NGOs, the financial sector, community leaders, opinion makers, the mass media, and critically, consumers," he said.
Gemfields' CEO, Sean Gilbertson spoke of the company's work in the gemstones sector, with an emphasis on ruby mining – specifically in Mozambique.
Others who spoke on various aspects of the ruby pipeline included geologist Cedric Simonet, well-known coloured gemstone explorer and writer, Vincent Pardieu, GIT Academic Adviser, Visut Pisutha-Arnond, industry veteran Dick Hughes, and Italian jewellery designer Alessio Boschi.
The forum concluded with two panel discussions which looked at the state of the market, the need for CSR in the coloured stones trade and the need for transparency and consistency in gem grading due to discrepancies in grading standards.
Pic Cap: The inauguration of the World Ruby Forum
Pic Courtesy GIT on Facebook
News Source: gjepc.org