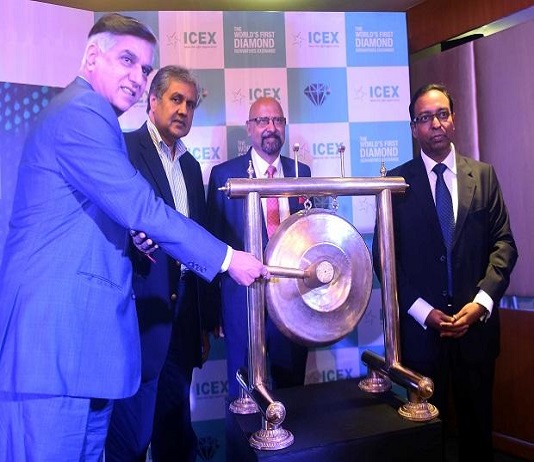 Indian Commodity Exchange Limited (ICEX) created a history of sorts yesterday when it went live with the world's first Diamond Derivatives Exchange.
"ICEX commenced operations with the launch of Diamond Futures, which will be the world's first derivatives contracts in diamonds," the exchange announced.
Praveen Shankar Pandya,  Chairman of The Gem & Jewellery Export Promotion Council was the Chief Guest at the launch function held in Mumbai, which was attended by several luminaries.  These included Anoop Mehta, President of the  Bharat Diamond Bourse, and  V N Kaul, Ex-Comptroller and Auditor General of India and Independent Director of Reliance Capital, which is one of the prominent shareholders of ICEX.
"I congratulate ICEX for the launch," Pandya said, speaking at the event. "I am sure the new exchange will be able to make a meaningful contribution towards the further development of India's commodity markets."
Ashok Sinha, Chairman, ICEX commented: "The vision behind ICEX has been to establish a world-class platform that offers de-risking avenues against the price vagaries in not only the Indian manufacturing sector but also in the agricultural sector. We want to see that the benefit of One India-One Price helps even small farmers."
Stressing the significance of the exchange,  V N Kaul said, "The launch of ICEX will give a further fillip to Indian trade and commerce and help in harnessing the true potential of the Indian commodity derivatives market."
Sanjit Prasad, MD & CEO of ICEX, added: "ICEX will offer a fair, transparent and nationwide market, bringing in large market participation into the diamond trade. It will result in efficient price discovery and provide an effective hedging platform for all stakeholders of the diamond industry. ICEX brings together the best technology in terms of the trading platform from MIT, renowned vaulting services offered by MALCA-AMIT and credible grading certification by IIDGR. This will fulfill the objectives and standards as set up by the Regulator and the Government of India."
MillenniumIT or MIT is part of the London Stock Exchange Group and is  "a leading innovative trading technology business".  MillenniumIT's software platforms are said to be "fully fault tolerant"   where "immediately available replica processes ensure uninterrupted trading even in the face of software or hardware outages", ICEX elaborated.
Initially, ICEX  is offering diamond contracts for gems of 1 carat with compulsory delivery. "This will create an entirely new market for the diamond industry players where the sellers can deliver their certified quality diamonds to a different set of buyers from across the country," the exchange said.
ICEX revealed that till date  more than 100 members and 4,000 clients have registered with the exchange. "The launch of Diamond Futures trading on ICEX will lead to efficient price discovery based on demand and supply fundamentals and a nationwide market participation," ICEX concluded.
Pic Cap:
GJEPC Chairman Praveenshankar Pandya sounding the gong to launch ICEX's  Diamond Derivatives Exchange. Also seen (from ext left): Anoop Mehta, President BDB; ICEX Chairman Ashok Sinha; and ICEX MD & CEO Sanjit Prasad
Pic Courtesy: ICEX
News Source:gjepc.org