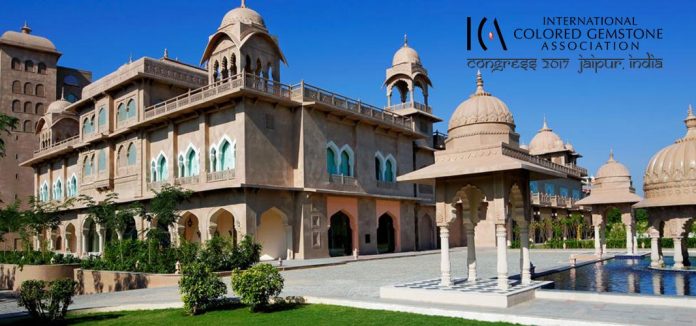 Jaipur, the color stone capital of India, will host the VII ICA Congress from the 21st to 24th of October, 2017.
Rajiv Jain, the Steering Committee Chairman is pleased to invite you to participate in this Congress. The speakers at the Congress will cover the most recent developments in the colored gemstone industry worldwide.
These dates immediately follow Diwali, India's most important holiday of the year.
The events preceding and following the Congress:
One Day Jaipur Sight Seeing
One Day Agra Sight Seeing ( 245 Km from Jaipur)
One Day Ajmer Pushkar Sight Seeing ( 145 Km from Jaipur)
Two Day Tiger Safari Ranthambore ( 180 km from Jaipur)
Visit to Gems & Jewelry Industrial Zone ( 25th October)
Palace On Wheels Tour ( Starts 11th October 2017 for 7 nights 8 Days from Delhi)
Agenda Of Congress:
Day 0- 20th October 2017, Friday: Arrival & Registration of Golfers & Others
Day 1- 21st October 2017, Saturday: Registrations, Golf-Cricket & Inaugural Dinner
Day 2- 22nd October 2017, Sunday: Business Session
Day 3- 23rd October 2017, Monday: Business Session
Day 4- 24th October 2017, Tuesday: Half Day Session & Board Meeting
Day 4- 24th October 2017, Tuesday: Gala Dinner
*Two Dinners ( 22nd & 23rd October 2017) at exotic Locations in Jaipur
Reasons to Come to the Congress
Jaipur is India's second important gems and jewelry exporting centre and the first in sales to foreign tourists. With a history dating back to more than 280 years, the famed Indian Gems City of Jaipur is still a hot spot in Gems 'n' Jewelry
Jaipur is known for traditional Indian warmth and kind hospitality. You will relish the latest trending jewelry, hand crafted beautiful gemstones, handicrafts and architecture that have been part of our culture and heritage for centuries.
Jaipur is one of the most visited city by tourists for its for forts, royalty and architecture.
The city's heritage status and proximity to the national capital New Delhi have attracted people from far and wide. All of the city is a magnificent gem, so be it a cultural procession, weddings, sound of gem cutting traditional factories or a simple walk around the streets of the old city.
The speakers featuring in the congress will cover the most recent and important developments in international trade scenario. We are sure that each one of us always wishes to feel the pulse of global markets and trends.
There are special programs planned and designed for spouses and younger ones that they will enjoy and will be very happy to be a part of such a magnificent event.
Events Related to Diwali Prior to Congress :
There can be events related to 'Diwali' -The Festival of Lights, which could include the following:
City tour in an open bus or car showing the beautifully lit pink city of Jaipur.
Exclusive sit down dinner at the City Palace overlooking the lit palace.
Witness the sky light up with fireworks with an exclusive dinner at 'Padao', Nahargarh fort.