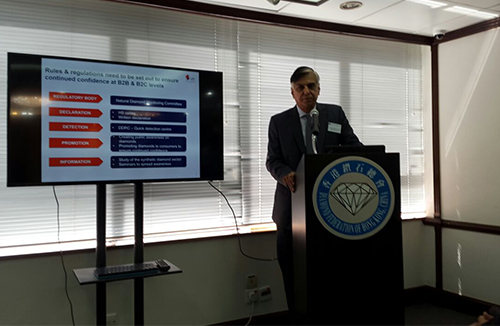 The Gem & Jewellery Export Promotion Council (GJEPC) has called upon all industry stakeholders to develop a co-ordinated approach against the undisclosed mixing of synthetic diamonds with natural diamonds. This will ensure fair trade and strengthen consumer confidence in the natural product.
A key aspect of this is a proposal to establish a multi-stakeholder body to collaborate on technology development and R&D with the aim of developing effective segregation technology, deployment of equipment at reasonable prices and shared facilities for smaller players. The Council has proposed the setting up of a structure to manage this effort and evolve as a common platform for sharing of knowledge and ideas between scientists.
This has been important part of the presentations made by GJEPC Chairman Praveenshankar Pandya during the recent visit of an Indian delegation to Hong Kong and China.
As reported earlier, the GJEPC Chairman spoke at the International Industry Forum in Shenzhen, participating in a round table discussion on synthetics and later also discussed this during a visit to the NGTC in China. He also made a presentation to the Diamond Federation of Hong Kong, China (DFHK) on similar lines.
During the presentation, Pandya focused on activities and initiatives taken by the Indian industry under the aegis of the Natural Diamond Monitoring Committee (NDMC) which was set up in coordination with other Indian trade bodies a few years ago. He outlined how the NDMC has been conducting seminars and awareness programmes and has established testing and detection centres in both Mumbai and Surat as part of the drive against undisclosed mixing.
Pandya also pointed out that the Indian government has recently accepted and implemented the industry proposal for a separate HS Code for synthetic diamonds which will ensure easier traceability. He added that the authorities in key centers like Singapore, Malaysia, USA and UAE will also be approached to take similar steps and to ensure full, global traceability, with clear nomenclature, the WCO may also be requested to create a new code for synthetic diamonds worldwide.
Other key action proposals include:
Immediate and stringent action by Trade Bodies against errant players who mix natural and synthetic diamonds including fines, expulsion and sharing of information about such companies
A communications strategy that ensures alignment of all industry bodies, consistent messaging and widespread awareness
Setting up of grievance redressal bodies to enforce industry values and ensure transparency.
In this context, the Council pointed out that it had commissioned an updated study on the synthetic diamond industry which was being carried out by Bonas & Co and would be completed within a year.
It also added that GII had already developed the affordable and easy-to-operate Quick Check machine, and that action has already been taken by the Indian industry in three cases of undisclosed mixing.
Pic Caption: GJEPC Chairman Praveenshankar Pandya speaking at a meeting with DFHK
– News Source : http://www.gjepc.org