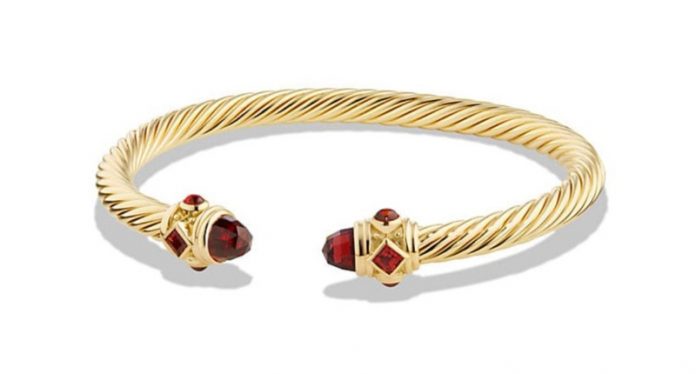 Tucson, Ariz.–David and Sybil Yurman of the eponymous brand known for its cable motif stepped into a seldom seen spotlight on Thursday.
On a shady oversized patio at the JW Marriott Starr Pass Resort & Spa in Tucson, Arizona, home of the JCK Tucson show, the pair had a packed house of invitation-only guests eager to hear the legends talk about the evolution of the brand and staying timely in the current retail landscape.
The pair met more than 50 years ago as emerging artists. David, a one-time sculptor, was creating pieces for Sybil when she made a request: a piece of jewelry.
"I told David, 'The sculptures are beautiful, but I'd like to be able to wear one,'" Sybil recalled.
So he did, and people noticed.
In a gallery on Madison Avenue, a shop owner inquired about purchasing Sybil's gift from David—a necklace with human figures that culminated in a clasp of interlocking hands. David balked at the idea of selling it, but with some persuasion from Sybil, agreed to part with it.
Within 20 minutes, the pair received another call from the owner with her own request—for him to make more, and quickly. They had already sold four.
At once, the couple understood margins, knowing they needed to increase them. "If you sell too many too fast then your margin is too low," David said.
So with that emerging business savvy and a $500 loan—"for which our parents had to co-sign," Sybil added—from the Hebrew Free Loan Society, their business was born.
"We didn't set out to create a business. We just wanted to make things," she explained.
"If we could do it with $500, you can do it, too," David said.
Here are a few of the pair's professional takeaways from the session to help designers carve out a rich career for themselves.
1. On Name Recognition in Stores in the Early Years
"When we started, everyone was buying jewelry from another country, but our hook was American-made," David said. "Customers were getting tired of seeing the same thing over and over again, so they embraced the point of view of the craft movement. It was a fight to have a jeweler use your name in a showcase, though. I would say, 'I made this, so it's a lie for you to say you did.' At that time, jewelers didn't want the customers to know that they could buy from anyone else."
2. On the Early Days of Case Space, Contracts and Retailer Relationships
"I would say 'We'll only allow you to take the collection if you buy enough pieces to tell a story, to show our point of view,'" David said.
Sybil added, "We didn't do it out of arrogance. We had just never done it before, so we didn't realize how regimented it was. We had to figure out how to do this tricky combination of art and commerce. So we wrote a contract—a retailer agreement—that revolutionized the way business was done. You also had to like the people you were dealing with because you had to believe they would pay you and could help sell your product."
3. On Hiring Good Help
"The aesthetic is easy; it's the whole organizational part of the business that is a fight," David explained. "Hire people who are like-minded. Hire the people who complement your strengths to fill in the gaps and listen."
4. On Familiar Designs
"You need a good merchandiser to remind you what you made two years ago and to decipher demand while keeping true to aesthetic," David said. "You need someone to say, 'Take that out of the collection because that was in someone else's collection' or 'By the way, I bought that last year from John Hardy.'
You have to see other people's lines to know what is out in the world. I go to shows to see the flow of things, but also to see what I don't want to make. Follow your own way of doing things."
5. On Market Need
"I made two belt buckles that sold quickly," David recollected. "I didn't want to make anymore, but a friend said, 'You're in the market, so you've got to take your pigs to market.' Ask customers what they want, and fill a market need. So many people now think they know everything. No one wants to listen. Listen to your retailers and customers."
6. On the Story Behind the Cable
"The inspiration came from brazing rods. I bundled up this material to solder," David explained. "I said, 'Let's do cable. Let's use that as our river.' I found a classic form and stuck with it. Today, 70 percent of what we sell is cable, and many of our best-selling designs were made 20 years ago."
News Source: nationaljeweler.com