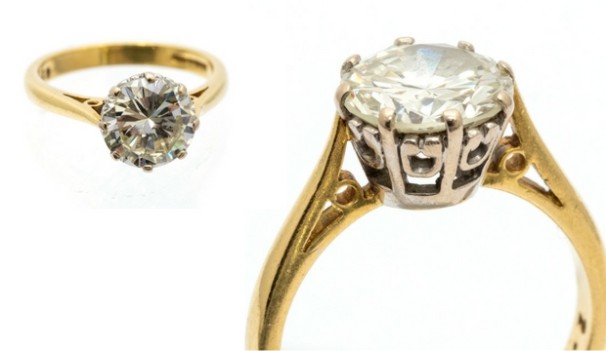 A shopper has discovered a ring she bought from a charity shop in Bromley for a fiver is actually worth thousands.
The lady, who wishes to remain anonymous, was left speechless when she found out a ring she bought as a piece of fashion jewellery from the 'odds and ends' section of a charity shop is actually a diamond solitaire worth up to £8,000.
The piece was purchased just before Christmas from a box in the store labelled 'junk jewellery'
The woman aged 58, from Bromley, Kent, then took the ring along to a free antiques valuation event held by Hansons London in Keston near Biggin Hill, and was told that the piece is in fact a gold ring adorned with a 2.30ct diamond.
The ring is now set to go under the hammer at Derbyshire's Hansons Auctioneers with an estimate of £7,000-£8,000.
Sonia Jackson, valuer for Hansons Auctioneers and Hansons London, spotted its worth at the free valuation event held at The Greyhound, Commonside, Keston, on April 19.
Jackson shares: "I told her it was a real diamond and she was amazed. She'd had the ring for months and thought it was costume jewellery with a fake stone. I was delighted for her and brought the ring back to Hansons' headquarters in Etwall, near Derby, to have it valued by our consultant jewellery specialist David Byrne. When I rang her to tell her the valuation I said, 'I think you may need to sit down'."
"This is a high quality, 2.30 carat diamond ring," Byrne adds. "The stone's a real sparkler. They say diamonds sparkle and this stone genuinely does."
This is not the first time a diamond ring has been mistake for costume jewellery.
A year ago someone found out a ring they purchased for £10 at a car boot sales was actually a 26.27ct cushion-shaped diamond.
When it went under the hammer at a Sotheby's auction it fetched £656,750.
News Source : professionaljewellers.com