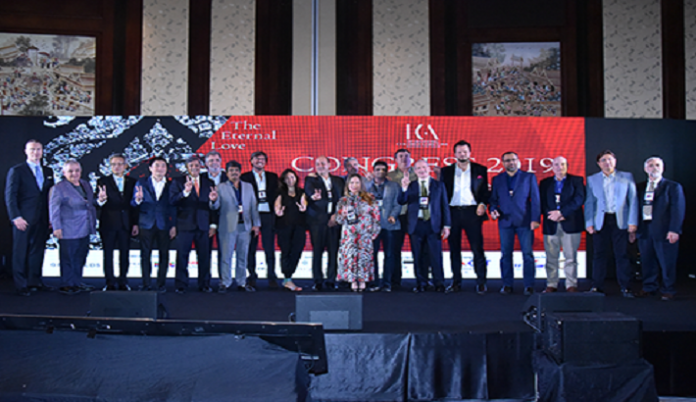 The 19th International Colored Gemstone Association (ICA) Congress, which took place in Bangkok from October 12-15, not only saw the largest ever overall turnout in the over 30-year history of the event, but also reflected the increase in gender diversity both in the coloured gemstone industry and the organisation too, the ICA stated in a post Congress release.
The trade body said that the global gathering was attended by over 370 delegates from 26 countries, including the world's leading gemmologists, miners, retailers, gem dealers and jewellery designers. Significantly, the ICA reported that this Congress attracted the highest number of female delegates and speakers since the first event was held in Tel Aviv, Israel in April 1983.
The ICA Congress, usually held every two years, enables industry experts to share their latest knowledge and insights with members of the trade, industry professionals and media.
Over the three days, different sessions devoted to discussions on pressing issues being faced by the industry were held. Some of the most important discussions centred around responsible sourcing and challenges faced by artisanal and small-scale miners, as well as industrial mining, the ICA said.
The event also announced plans to introduce a new membership status called "Accredited Ethical Member" via an application coinciding with membership renewal each year.
The ICA had selected Thailand, the global hub for coloured gemstones, as the venue for the 2019 meet. Having earlier hosted Congresses in 1987 and 2005, Thailand thus became the first country to host an ICA Congress for the third time.
"We are delighted to have seen the biggest ever participation by industry experts from around the world at this year's Congress in Bangkok," said Prida Tiasuwan, Chairman, ICA Congress 2019.
The ICA Congress this year received sponsorship from coloured gemstone businesses around the world, as well as from Thailand's Department of International Trade and Promotion (DITP), and the Gem and Jewelry Institute of Thailand (GIT.)
"The 19th ICA Congress attracted leading speakers in the colored gemstone industry from around the world, including Sean Gilbertson, CEO of Gemfields, our anchor sponsor, and top executives from retailers Chow Tai Fook and Amazon, among many others," said Santpal Sinchawla, ICA Secretary and Chairman of the Steering Committee for the Congress.
The seminar programme included panel discussions about digital marketing, featuring speakers such as Benjamin Guttery of Third Coast Gems and challenges facing jewellery designers, with speakers such as Fulvio Scavia, Managing Director, Scavia.
A non-profit organization, the ICA is the only worldwide body specifically created to benefit the global coloured gemstone industry. Founded in 1984, it now comprises over 700 gem industry leaders from mine to market, including miners, gem cutters, suppliers, retailers, trade associations, gemmological laboratories, academia, museums, and so on, from 47 countries.
New Source : gjepc