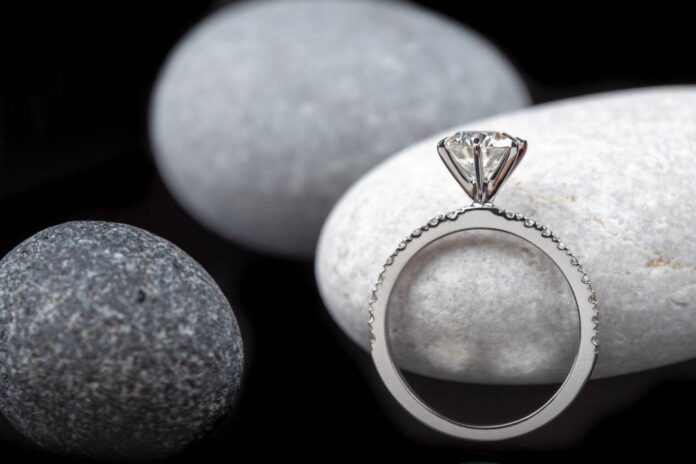 Before now, the bride's gown and accessories are often the center of attention at weddings. But modern grooms are now treating their appearance on their big day equally as important.
If you are a groom-to-be and also looking to elevate and add sophistication to your look, an important aspect of your dressing that requires playing your cards right is the selection of jewelry pieces.
Choosing appropriate jewelry that suits your wedding outfit can be quite tricky, especially if you're not very much fashion savvy.
But to make the task easier for you, listed below are fashionable wedding jewelry options for you; these pieces of jewelry will make every groom to stand out and improve their entire appearance on their special day. Let's get into it!
Lapel Pins and Boutonnieres
Lapel pins are decorative items that rest on the lapels of suits. On grooms, they appear incredibly regal and luxurious. Grooms' lapel pins are a special approach to draw attention to those qualities. They can give your clothing more authenticity and enhance your style. Even though there are many different types, such as flower lapels and offset epoxy pins, boutonnieres are excellent for the groom.
Make sure the pin is positioned correctly on your suit's left side. Bonus points if your suit has a lapel pin indicator, which is typically a buttonhole. You can choose from zinc, iron, or alloys for your materials.
Pick boutonnieres and lapel pins that go with the wedding's general motif. Match the accessories' hues, textures, and aesthetic components to the wedding's decor, flower arrangements, or special themes. This results in a unified and appealing aesthetic.
Choose boutonnieres with fresh flowers or leaves that go well with the bridal bouquet or other floral decorations. Choose blossoms that are meaningful to you personally, are similar to your partner's favorites, or have a symbolic meaning. This gives your clothing a fresh and vivid touch.
Cufflinks
Cufflinks have always been a wedding fashion must-have, but rather than gravitating toward a stock set, think about personalizing your accessories. A groom's clothing can be immediately improved with the addition of cufflinks. To add a unique touch, experiment with other materials like silver, gold, or even gemstone decorations.
Have your initials or your wedding date engraved on them for the ideal finishing touch that has personal importance. To really stand out, you can even add a splash of glitter, especially when matched with a cream floral jacket and a gold watch.
Wedding Bands
One of a groom's most important pieces of jewelry is the  mensweddingbands. The groom should explore a variety of ring designs, such as classic platinum or gold bands as well as more modern choices including alternate metals and distinctive finishes.
Choose whether you want identical wedding rings that perfectly match your partner's ring or distinctive bands that showcase your particular taste. To determine which option is best for you as a pair, weigh the advantages and disadvantages of each one and take into account elements like metal color, width, and design.
Consider engraving specific phrases, including your partner's and your own birthstones or gemstones, or adding particular patterns or symbols that have special importance for you both. Learn how adding these special details can enhance the significance of your wedding bands.
Also, knowing how to size wedding rings will result in the best fit and most comfort. Learn the value of expert sizing, what to look for in a good fit, and how to use alternatives like adjustable or comfort-fit bands.
Tie Bars and Pins
Tie bars and pins are modest yet significant accessories that can forthwith enhance a groom's formal appearance. They not only maintain the tie in place, which is a practical function, but they also elevate the entire appearance with a dash of style and sophistication.
Investigate several styles, such as tie clips, tie bars and pins, tie tacks, and stick pins, and discover how to apply them to ties without causing fabric damage.
Choose tie bars and pins that match the suit's metal elements, such as the color of the buttons or cufflinks, for a unified appearance. This gives the appearance of being polished and in harmony.
To add some vibrancy to the outfit, think about choosing tie bars or pins with bright decorations. Select a hue that goes well with the wedding's theme or coordinates with your partner's accessories. You can increase the visual appeal of your attire with a little dash of color.
You can also engrave initials, monograms, or important dates on tie bars and pins to make them uniquely yours. Customized items can be treasured mementos from the wedding day and provide a personal touch. In addition, personalize the jewelry pieces to exhibit your unique personality.
Tie bars and pins should be coordinated with additional accessories, such as cufflinks or lapel pins, to complete the outfit. To achieve a coordinated and professional image, strive for a recurring theme or design element in all of your accessories. Pick a tie bar or pin with a coordinating or complementary pattern, for instance, if the cufflinks have a certain pattern.
Textured Watches
Wear textured timepieces, such as those with elaborate dials or patterned straps, to make your wrist more charming. The texture produces a distinctive and alluring aspect that stands out and enhances the appearance.
Textured timepieces are multipurpose accessories that go with a variety of outfits. A textured watch may give a touch of luxury and sophistication to any outfit, whether it's a formal tuxedo, a timeless suit, or something more relaxed. To make sure the watch is appropriate for various settings and fashions, take into account the texture's adaptability.
If you decide to wear a textured watch, take into account the harmony of textures in your entire look. Choose softer textures in other parts of your outfit if the watch's dial or strap is strongly textured; this is so that the watch remains a focal point and yet not dominate the overall appearance.
Layered Necklaces and Bracelets
Layered necklaces and bracelets are stylish accessories that allow grooms to express their individuality and give their wedding attire a distinctive touch.
Try layering necklaces and bracelets made of various metals, such as rose gold, silver, or gold. Combining different materials, such as leather, beads, or cloth, can also produce an eye-catching contrast. Play around with various textures and finishes to create a layered look that is both fashionable and dynamic.
Be mindful of the sizes and lengths of the necklaces and bracelets you choose to wear in layers. By layering longer pieces below shorter parts closer to the neck or wrist, you can provide depth and complexity.
Sunglasses
Sunglasses are a necessity if your wedding is outdoor so that you can shield your eyes from the sun's glare. Choose UV-protective eyewear to shield your vision while protecting your eyes.
Make sure your sunglasses match the color and style of your wedding attire. Consider sophisticated classic black or tortoiseshell eyeglasses if you're sporting a formal suit. Choose lighter frames or lenses that are more vibrant for a wedding that is more relaxed or has a beach theme. Your entire look should be enhanced and complemented by the sunglasses without being overpowered by them.
On your wedding day, sunglasses might create special photo opportunities. Work together with your photographer to get natural or staged photos that highlight your eyewear.
Conclusion
There are many ways to accessorize and add special touches to a groom's outfit, including tie bars and pins, lapel pins, boutonnieres, layered necklaces, bracelets, and sunglasses.
By carefully choosing and arranging these items, grooms can improve their wedding clothes, represent their individuality, and add significant pieces to their style. Whether it's a statement piece like layered necklaces, a textured watch, or a meaningful lapel pin, every accessory adds to a groom's overall style and makes him look put together and professional.