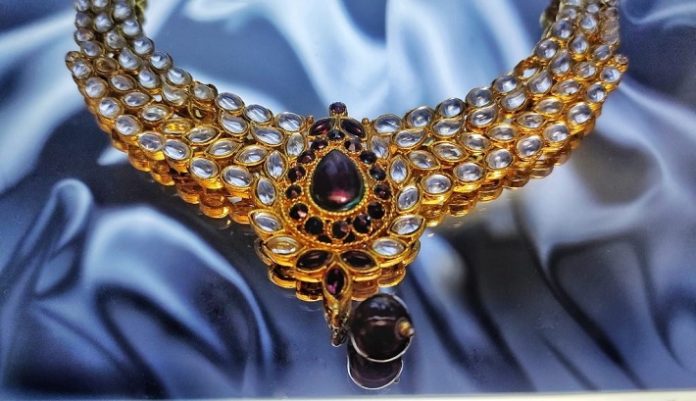 Jadau jewelry is a small yet elegant and treasured piece of Indian tradition that we can still enjoy in the modern world. It holds deep meaning in the Indian culture, and Jadau necklaces are often passed from generation to generation as heirlooms. However, not many people know much about this precious art and the distinctive features that set Jadau jewelry apart from the rest.
What is Jadau Jewellery?
Jadau jewelry is made by embedding uncut diamonds, precious gemstones, and pearls in gold. The name Jadau comes from the colloquial term 'jadd,' which means to embed—using  gold as a frame wherein diamonds and gemstones are studded without an adhesive.
Origin of Jadau
Although the art of making Jadau ornaments was brought to India by the Mughals, the skill has long since been perfected by Rajasthani craftsmen. In the Mughal era, Jadau was a technique used to create designer furniture, boxes, and idols. Today, you can find Jadau jewelry across India.
Polki and Kundan jewelry also find their origination in the Jadau technique. 
How is Jadau Made?
The art of making Jadau jewelry demands an eye for detail, and a team of expert craftsmen called Criteria. Once the Chiterias create the design and gold frame, the next step is to embed the precious stones. A group of people called the Ghaarias do the embedding work. Before embedding, they heat the gold framework to make it pliable. When the framework cools, it seals the stones within itself without the need for an external adhesive. In the end, the back of the ornament is adorned with meenakari designs.
What Makes Jadau Jewellery So Special?
Jadau jewelry has gained popularity due to its regal appearance. Brides-to-be often travel to western Rajasthan and Gujarat areas, especially to cities like Bikaner and Jaipur, to find the best Jadau jewelry for their wedding day. Jadau jewelry is not just suitable for brides; there are several diverse designs to choose from, and you can find a perfect piece of jewelry for every occasion and outfit.
Price & Evaluation
Considering the exquisite craftsmanship, gold, and precious stones that go into making Jadau jewelry, the ornaments can be costly. First-time buyers should be careful not to get conned by wily salesmen. Here are a few pointers to help with this –
Ask about the weight and purity of the gold used in making the ornament you wish to purchase
Other elements that affect the price of Jadau jewelry are the quality of stones used and the composition.
The value of the stones may vary based on the rarity, clarity, and weight. Ask about the individual prices of the stones used and not just the gross value.
Trustworthy jewelers offer a guarantee and a pucca receipt for every purchase.
What to Keep in Mind when investing in a Jadau necklace?
When buying your first Jadau necklace, keep the following points in mind –
The best Jadau jewelry uses 22 to 24 karat gold. The casing should be no less than 22k gold.
Opt for ornaments made with natural rather than treated stones. Certain treatments reduce the value and life of precious stones.
Be aware of the precious versus semi-precious stones.
How to Take Good Care of Jadau jewelry?
Jadau jewelry is delicate and must be handled with utmost care. Here are a few tips –
Keep your Jadau ornaments in padded cloth or leather boxes that reduce their exposure to moisture and other air pollutants.
Make sure necklaces and bracelets are not kept bent or folded over for long as they may get damaged.
Clean your jewelry with a soft dry cloth before keeping it away.
Do not apply perfumes or mist after wearing your jewelry, as the chemicals may damage the shine of the precious stones.
Understanding Jadau jewelry is not as complicated as it seems, and with a bit of research, you will be well-equipped to judge the quality and make of Jadau. Set a budget beforehand and explore different options before buying. Please write to us or call us to know more about different kinds of Indian jewelry. We would love to hear from you!
Author Bio:
Niyati Shah is a content specialist with Aurus Jewels, where she helps the digital team in developing unique, engaging, and informative lifestyle content. She covers the latest trends and topics pertaining to fine Indian jewelry, be it modern, traditional or antique. She also writes on topics that help define and guide women, especially brides. With her experience in design and fashion, along with her passion for jewelry, she offers insightful value to her readers.