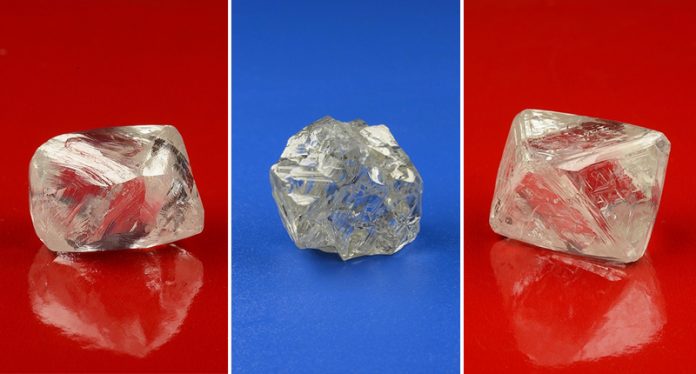 Moscow–Alrosa said it recovered three large gem-quality rough diamonds from the Jubilee pipe last month, ranging in size from 82 to 163 carats.
The first is an 82.82-carat octahedron rough diamond that the company has described as a transparent yellow-tinted crystal with small inclusions.
A second weighing 108.34 carats–another transparent yellow-tinted crystal with small inclusions–also was found.
The third, meanwhile, is a 163.11-carat rough diamond the miner said is a transparent yellow-hued crystal with inclusions near the surface.
Alrosa said the three rough stones will be sent to the United Selling Organization Alrosa so the experts can give them a detailed assessment.
All three came from Jubilee pipe, which is close in location to the Aikhal settlement and 485 kilometers (about 28 miles) north of Mirny, Russia.
Alrosa said through the first nine months of the year, Jubilee produced 6.57 million carats of rough diamonds, representing about 22 percent of its total diamond output.
Jubilee is Alrosa's leader in the recovery of large diamonds–20 rough diamonds weighing more than 50 carats have been extracted from the pipe since the beginning of 2017.
"Simultaneous extraction of three large rough diamonds, two of which are over 100 carats, within such a short period of time is a one-off event, especially when it comes to gem-quality diamonds," said Evgeny Agureev, director of the USO Alrosa. "As a rule, only five to 10 similar stones over 100 carats may be recovered within a year, and they are always in great demand at auctions."
News Source: gjepc.org