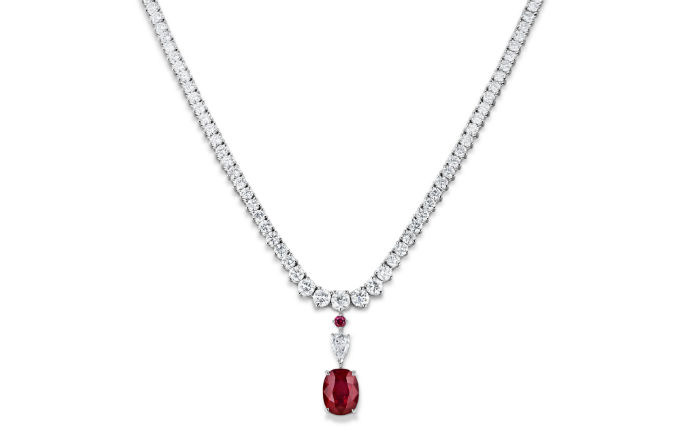 Gübelin Jewellery introduces a rare ruby from Tajikistan that serves as the centerpiece of a Riviere necklace from the company's Drops of Water fine jewelry line.
The 3.14-carat cushion-cut ruby from the Pamir Mountains of Tajikistan rests at the center of the necklace known as Riviere – the French word for river. According to Gübelin Jewellery, this is the best way to describe how the necklace's 142 brilliant-cut diamonds are set.
The handpicked diamonds perfectly match and complement each other to create a harmonious flowing effect. They also add additional sparkle to the ruby and set it in the right light. This piece is part of the elegant Drops of Waterline characterized by gems with rounded shapes, such as cushion shape, set in delicate prongs.
Gübelin Jewellery said Tajikistan is a highly regarded and special ruby-producing area in the Western Himalayas. The ruby is untreated.
Experienced goldsmiths, jewel setters, and polishers create the exquisite pieces of jewelry based on Gübelin Jewellery's unique aesthetic, the jeweler said. It is part of the Deeply Inspired philosophy, which pervades the company at all levels and stands for the combination of knowledge and beauty. "As a member of the sixth generation of our family-owned company, I am very proud of the way in which we combine beauty, knowledge, and artisanship," noted Raphael Gübelin, president of the Swiss family-owned business. To symbolize this philosophy, each piece of Gübelin Jewellery contains a ruby. It is considered the king of gemstones and stands for passion and love.
News Source:- jewellerynet.com