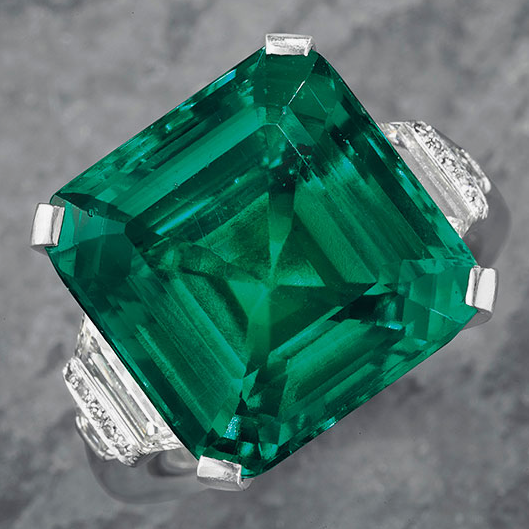 The Rockefeller Emerald snared $5.5 million ($305,000 per carat), at Christie's June 20 auction in New York City, setting a new per-carat record for an emerald.
That was within its announced $4 million to $6 million estimate.
The buyer was Harry Winston, which rechristened it the Rockefeller-Winston Emerald.
The 18.04 ct. step-cut Colombian stone, mounted with diamonds in a piece by designer Raymond C. Yard, is considered one of the finest emeralds ever to be auctioned. It previously belonged to David Rockefeller and his mother, Abby Aldrich Rockefeller.
In a statement, Harry Winston CEO Nayla Hayek said that chief financial officer Robert Scott was sent to the salesroom with a charge to "bring this magnificent gem home at any price."
"Harry Winston is immensely proud to own the finest emerald in the world which once belonged to one of America's most important dynasties," she added.
This is just one of several high-ticket items Harry Winston has nabbed at auction since its 2013 purchase by Swatch. In 2014, it paid $24.2 million for a 13.22 ct. fancy vivid blue diamond, and in 2013, it paid $27 million for a 101.73 ct. D-Flawless.
News Source: jckonline.com