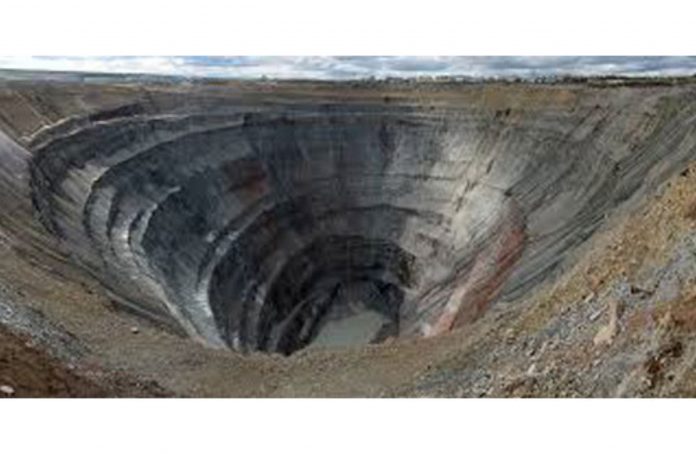 An official investigation ordered by the Russian government into the causes of the recent accident at ALROSA's Mir Diamond Mine has concluded that a "combination of hydrogeological, technical and organizational factors" was responsible, according to a statement released by ALROSA. Sudden flooding of the mine in August this year led to the deaths of eight people.
The report, prepared by the Federal Environmental, Industrial and Nuclear Supervision Service of Russia (Rostechnadzor), was discussed at a recent meeting between ALROSA President Sergey Ivanov and the Head of Rostechnadzor, Alexey Aleshin.
A technical investigation was carried out by a commission under Rostechnadzor which was assisted by four expert groups were formed from leading Russian specialists and scientists.
The commission concluded that one of the main reasons was the anomalous hydrogeological complexity of the deposit conditioned by a system of unfavorably underlying cracks in the structural fault.
The commission also listed a number of adopted design decisions among the technical reasons behind the accident. It focused on the project of 'dry conservation' of the open-pit mine implemented in the early 2000s, saying that this did not take into account the possibility of washing out of ore and rocks. It also did not provide for a long-term performance of the pumps installed at the bottom of the open pit for pumping out incoming water, the report stated.
Further, the technological regulations and development projects contained no technology for backfilling of washouts in the mine workings, and the storage of salt on the open pit edge contributed to the early failure of water-circulation galleries of the 'dry conservation' system, it commented.
The commission also reported that hydrogeological observations were conducted within the ore body only, and the project did not provide for the monitoring of brine inflows. This led to the unreliable assessment of the changed hydrogeological situation at the open-pit mine.
It also noted that the conditions that resulted in the accident did not emerge abruptly, but developed over several years. Neither ALROSA experts nor the monitoring system noted any signs of impending emergency, the report said. It also states that today, there are no reliable control systems in Russia and abroad that can make it possible to identify the development of cavity formations in rocks.
The commission developed organizational and technical measures to localize and eliminate the causes of the accident, and identified 16 officials responsible for the violations that led to the accident. ALROSA's management has been asked to compile a complete list of persons and their personal responsibility for the accident.
The commission estimated the economic damage at RUB 10.216 billion. Currently, operations at the mine have been halted.
Pic Cap:
View of the Mir Mine
News Source : gjepc.org