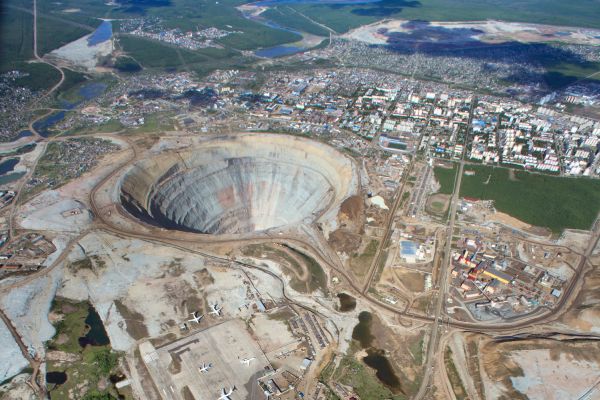 Alrosa CEO Sergey Ivanov said this week that the company estimates that global diamond mining reached its peak in 2017, which is "good news for future rough diamond prices" and for diamond miners like Alrosa. Pictured here is the company's Udachny underground mine.
Alrosa reported Tuesday that its 2017 sales declined 17 percent, hurt by product mix and a stronger ruble.
Revenue was down 13 percent year-over-year for the Moscow-based diamond miner, from 317.1 billion rubles ($5.51 billion) to 275.4 billion rubles ($4.79 billion).
Net profit dropped 41 percent to 78.6 billion rubles ($1.37 billion).
During the company's earnings call, CEO Sergey Ivanov said demand for small-sized rough diamonds early in the year caused the price for gem-quality diamonds sold by Alrosa to drop 9 percent in 2017.
The company had an overstock of small goods due to the impact of demonetization in India, which left many who deal in these goods with no cash to buy diamonds. Alrosa cleared this stock in 2017.
Together with a 13 percent ruble appreciation, this "[dragged] down our annual performance," Ivanov said, even though the company's diamond output reached levels not seen since 1990.
Diamond production rose 6 percent year-over-year to 39.6 million carats. Diamond sales were up 3 percent, from 40 to 41.2 million carats, with a 5 percent increase in the sale of gem-quality diamonds offsetting a 2 percent decrease in the sale of industrial diamonds.
Expenses increased due to production and sales growth, the contribution Alrosa made to the Diamond Producers Association—the amount increased fourfold to 1.5 billion rubles (about $26 million) in 2017—and losses the company incurred around the August accident that killed eight workers at the Mir underground mine.
Ivanov said the fatal flooding was "obviously … the worst event of the year" for Alrosa. He said the company recently completed measures to re-employ Mir workers, even as the mine remains closed.
Alrosa executives also noted on the call that 2018 is off to a strong start for rough diamond sales due to solid polished sales at retail in 2017, with Ivanov estimating the global diamond jewelry market grew 5 percent last year.
The mining company's statements mirror what De Beers said when releasing its latest sales figures earlier this month.
In January, Alrosa said its rough and polished diamond sales totaled $504.5 million for the month. Rough diamond sales by value accounted for $499 million, while polished sales totaled $5.5 million.
In February, sales totaled $541.9 million–$532.8 million in rough and the remaining $9.1 million in polished.
Deputy CEO Yury Okoemov said that demand for diamonds so far in 2018 has been strong in the core diamond markets, with good retail sales in 2017, including during the holidays, necessitating restocking among manufacturers.
He added that retail demand also was strong in China ahead of the Chinese New Year (Feb. 5), and that prices for diamonds in most sizes increased in January and February.