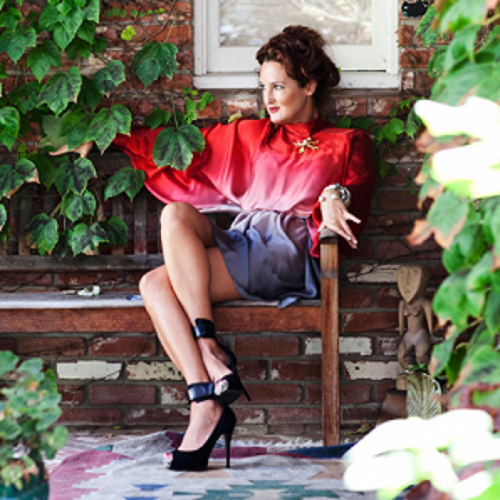 In an ever-widening sea of brands specializing in "daily" fine jewelry, designer Katey Brunini stands out as a creator who consistently pursues the extraordinary.
The founder of Southern California–based K. Brunini Jewels designs bold, intricate pieces—from a deep bench of natural materials—that often incorporate organic forms and historical references.
Even Brunini's inspirations are profound: "Right now I'm deep into Mesoamerican Dualism in pre–Columbian art, design, and history," she recently shared with me over email, and attached the below photo of a stunning new collar necklace (out in September!) to illustrate just how that inspiration is shaking out in her workshop.

Abalone necklace with fancy colored diamonds

"The grande dame, Mother Nature, never fails to inspire me," Brunini added. "From the genetic structure of DNA to rattlesnake vertebrae, she shows us her intricate balance. I am merely a conduit for her gifts."
The talented conduit agreed to answer a few pressing questions…
JCK: What drew you to jewelry design initially?
Katey Brunini: Egyptian architecture and design—a visit to the Cairo Museum [in the early 1990s]. I had imagined I would be an architect but shifted to miniature structures in metal and gemstones, always honoring Mother Nature.
JCK: How do you think your pieces fit into the lives of the people who wear them?
Brunini: After 25 years in the business of design, I know that our collectors are empowered when they don our pieces. They are reminders of a much bigger picture.… My core customer has everything, yet she wants to stand apart from the crowd.
JCK: What are some of your favorite pieces you've ever made—and why?
Brunini: They are all my children. I don't play favorites.
JCK: What jewelry designers do you admire—and why?
Brunini: Sevan and Federica Rettore. They are each true to their craft and design aesthetic, and they each have a sense of humor as human beings.

A gaggle of Brunini rings 

Pieces from her Vertabrae collection
JCK: What's the best book you've read recently? 
Brunini: The Book of Joy, which is a conversation between the Dalai Lama and Archbishop Tutu, two older wise guys speaking about life in layman's terms. It's huge concepts whittled down to kernels of simple wisdom. 
News Source: jckonline.com