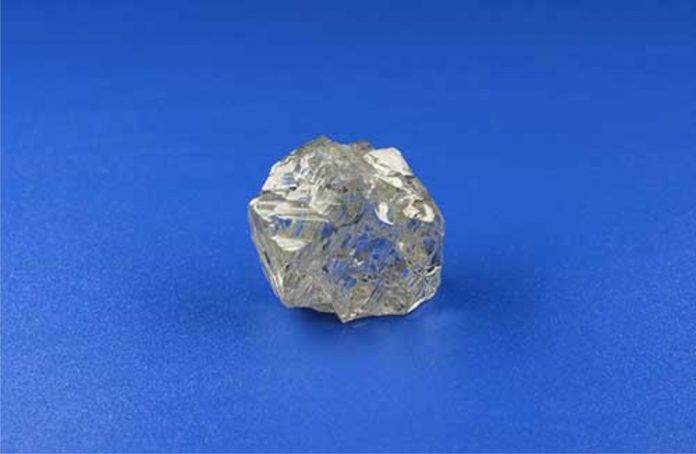 ALROSA has recovered several large rough diamonds from its Jubilee (Yubileynaya) pipe, which falls under the Aikhal Mining and Processing Division, in October. The gem-quality diamonds range from over 82 carats to over 163 carats.
The smallest amongst these is the 82.82-carat octahedron rough diamond which measures 23.28 x 19.06 x 18.8 x 15.94 mm. "It is a transparent yellow-tinted crystal with small inclusions," the Company said.
The next largest is a 108.34-carat rough diamond measuring 23 x 20.56 x 18.07 x 17.86 mm. It is also a transparent yellow-tinted crystal with small inclusions.
The largest in this lot, a 163.11-carat rough diamond, measures 26.67 x 25.59 x 22.4 mm. ALROSA revealed it is a transparent yellow-hued crystal with inclusions near the surface.
"Simultaneous extraction of three large rough diamonds, two of which are over 100 carats, within such a short period of time is a one-off event especially when it comes to gem-quality diamonds," noted the Director of the USO ALROSA Evgeny Agureev. "As a rule, only 5-10 similar stones over 100 carats may be recovered within a year, and they are always in great demand at auctions."
He said these rough diamonds will be shortly sent to the United Selling Organization (USO) ALROSA. There, the Company's experts will assess them in detail.
The Jubilee pipe, discovered in 1975, and where open-pit mining commenced in 1989, ranks among the largest primary diamond deposits in the world, noted ALROSA. "For 9 months of this year, Jubilee pipe produced 6.57 million carats of rough diamonds that is some 22% of ALROSA's total diamond output," the Company stated.
Known for the recovery of large diamonds, the Jubilee pipe has yielded 20 rough diamonds of over 50 carats till date in 2017.
Pic Caption: ALROSA's 163 carat rough diamond recovered from the Jubilee pipe in October
News Source: gjepc.org