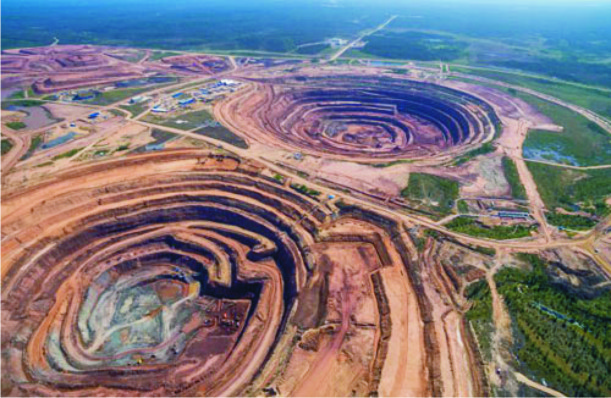 ALROSA group company PJSC Severalmaz tested "unmanned aerial vehicles", the parent Company said, "for mine surveying of land objects of Lomonosov Mining and Processing Division".
The drones used in the pilot test included a Geoscan 401 Geodesy quadcopter and aGeoscan 101 Geodesy aircraft by Geoscan. During the tests the open-pit mine, dump, ore storages and other bulked land objects were surveyedcovering a total area of over 3 square kms, with a flight time of 2 hours 40 minutes. However, in order to accomplish the assigned tasks, the drones flew a total of about 100 km.
"Preliminary estimates show that the use of unmanned technologies provides high survey accuracy, increases the speed and safety of work," ALROSA declared.
The Company elaborated thatthe measurement error is "within acceptable limitswith a large margin"; adding that the use of drones made the survey much faster compared to traditional laser scanning. It asserted that for one of the tasks, the duration of work was reduced from 115 to 65 minutes, and significantly improved safety.
"Right now, mining companies in our country are only testing the drone-based surveying technology. For Severalmaz, as well as for ALROSA as a whole, this is also the first experience of their use," commented Chief Engineer of PJSC Severalmaz, Igor Ivanov. "We still need to do an in-depth analysis of the results, but preliminary estimates show that the use of drones for mine and geodetic surveying can be very promising."
The drones used in the tests are designed specifically for mine and geodetic surveying and require no special modification.
"The use of drones for surveying is one of the components for building the concept of digital production at a mining enterprise," noted the project director of ALROSA's Strategic Projects and Analytics Center Alexey Tikhonov. "The resulting polygonal digital model of the open-pit mine can be used to automate the processes of calculating the volume of excavated rock mass, comparing the current state of mining operations with the mining project, planning of mining operations, and to solve some other tasks."
Pic Cap: Aerial shot of Severalmaz
Pic Courtesy: PJSC ALROSA
News Source : gjepc.org