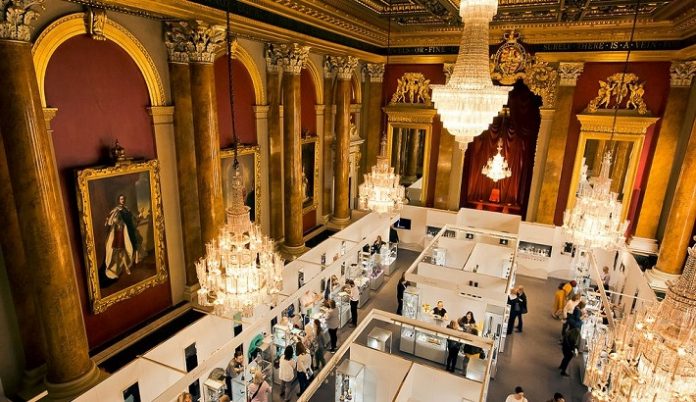 Applications to exhibit at the 37th edition of the prestigious Goldsmiths' Fair have opened today.
The 2019 Goldsmiths' Fair will run for two weeks and showcase the finest new collections from talented UK-based designer-makers.
Those wanting to apply can do so via the Fair's website, which went live today (Jan 4). Jewellery industry professionals have until midnight on February 28 to apply.
The Goldsmiths' Fair Selection Committee will meet in March and applicants will be advised of the outcome thereafter.
Applicants must conform to the following:
• Display only work (each piece) that includes precious metal(s)
• Represent themselves and not act as an agent for others
• Live and work in the UK
• Apply with work that has been designed and made in the UK by the applicant (if the applicant has used the specialist techniques of another tradesman e.g. a spinner/caster/engraver etc., these must be detailed on the application form)
• Employ fewer than six people at the bench
• Must not be in full-time education at the time of application
• Must be available to man their stand at all times during the Fair
• Intend to exhibit goods that are compliant with the UK Hallmarking Act 1973
• Be in agreement with all Terms & Conditions and Rules & Regulations (to be provided upon successful application)
To encourage and support the next generation of jewellers and silversmiths, there are 10 free stands on offer each year at Goldsmiths' Fair through the Graduate Bursary Scheme.
Winners of the bursary receive a free stand at Goldsmiths' Fair, a £1,500 grant to help prepare towards the Fair, an optional interest-free silver bullion loan of up to £3,000, and mentoring opportunities at the Goldsmiths' Centre.
To be eligible you must meet all the standard eligibility requirements, have graduated (from an HND/BA/MA or Goldsmiths' Apprenticeship) in the last five years, and have not exhibited at Goldsmiths' Fair before. There is no age requirement.
Last year, 138 exhibitors took part and more than 8,000 people visited the event.
The 2018 Goldsmiths Fair will take place September 23 – October 6 2018.