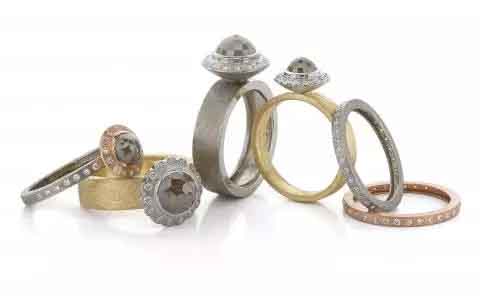 Retailing artisan jewelry collections is an experience made of passion, relationships, and shared interests. It's driven by a variety of forces—the designers' earnest zeal for the craft, the consumers' desire for the finished product, and the store owners' appreciation for the beauty and process of design. Regardless of whether a retail storefront sells strictly fine art collections or traditional offerings mixed with more artistic and edgy creations, its shared interest for uniquely designed and exquisitely crafted pieces is clearly evident.
By and large, consumers of artisan jewelry are discerning. They are involved and invested in the story or influence behind each piece and what makes it truly original.
"My shop is located in Madison, Wisconsin, which is a university town with a lively arts scene, so my client base has always been predisposed to appreciate what I sell," explains retailer Hanna Cook-Wallace of Studio Jewelers.
Cook-Wallace—who almost exclusively sells fine art collections—has been with the designer program "from the get-go." She sells primarily to a demographic group composed of women (and some men) who want "pieces that are beautiful, exquisitely made, and personally meaningful." They also want, she says, an ongoing relationship with her as their jewelry professional. They have even become her personal friends over the years.
Like many other retailers, Cook-Wallace will come to JCK Tucson this February to seek out new pieces from well-known artisan designers and new talent alike.
Retailers such as Harris Botnick of Worthmore Jewelers in Atlanta will also make the pilgrimage.
"I do not feel that the customer that gravitates toward more artistic and cutting-edge jewelry is different from the classic or traditional customer," says Botnick. "I would say we have converted more classic customers into appreciating the unique and realizing how much more fun it is to wear something no one else has."
Finding something no one else has—that's an experience a visit to JCK Tucson can guarantee.
News Source : jckonline.com