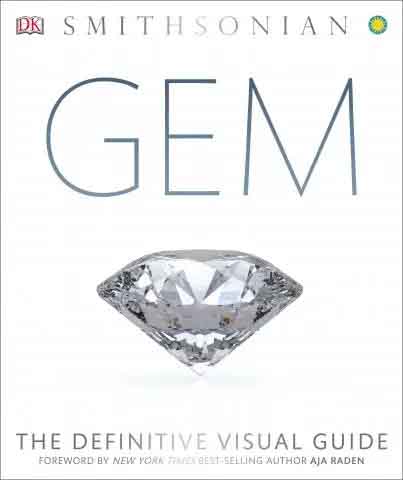 Four new coffee table tomes about colored stones offer beautifully shot glimpses of a fascinating yet opaque trade
If two is a coincidence and three is a trend, what does that make four? A sure thing—as with this quartet of beautifully photographed and expertly written odes to colored stones, just in time for the holidays:
1. Gem: The Definitive Visual Guide
Published by DK with the Smithsonian Institution and boasting a foreword by Aja Raden, author of the New York Times best seller Stoned: Jewelry, Obsession, and How Desire Shapes the World, Gem: The Definitive Visual Guide brims with essential and surprising information about the earth's bounty of mineral treasures.
The ultimate reference guide, this six-pound, 440-page compendium of colored stones sheds light on the science, history, and mythos surrounding gems. From the myriad varieties that constitute the tourmaline family to the legend of the Black Orlov Diamond, the stories of the world's rarest and most valuable stones are displayed artfully, elegantly, and effectively in this stunning and useful tome, ideal for both amateurs and professionals alike.
"History, mythology, or pure fantasy, the best stories all have that one thing in common: They all have something glittering at their heart," Raden writes. "But this book is not a story. This book is a map, a codex, a tool to help you understand all of those other stories."
Gem: The Definitive Visual Guide lists for $50.
2. Secrets of the Gem Trade, Second Edition
Richard Wise, author of Secrets of the Gem Trade, has added 11 chapters, 5 introductory essays, 127 pages, and 161 images to this second edition of his gem trade bible, first published in 2003.
If you're considering a career in the gem trade, or just aspire to one, this incisive handbook explains how to evaluate gems with a mixture of straight talk and anecdotes. "It may surprise the reader to know that much of the information contained in this book has never been available before," Wise writes in the preface. "A trade that has kept its secrets for thousands of years does not yield up its wisdom simply for the asking."
One more reason to appreciate Wise's evocative dispatches from a parallel universe.
Secrets of the Gem Trade, Second Edition, sells for $99.95.
3. Ruby & Sapphire: A Gemologist's Guide
Few people in the world know more about corundum than Lotus Gemology founder Richard Hughes, author of Ruby & Sapphire: A Gemologist's Guide, a richly updated revision of his 1997 classic, Ruby & Sapphire, and his 2014 volume, Ruby & Sapphire: A Collector's Guide. Any thoughtful discussion of the gems would benefit from Hughes' authoritative point of view, which spans subjects as diverse as history, crystallography, and treatments. Readers will learn that his gem career began on a serendipitous journey after high school, which brought him to Bangkok and a gemology course at "the newly minted Asian Institute of Gemological Sciences."
"Seven days a week, I lived, stroked, inhaled precious stones," Hughes writes of those early Bangkok days. "It was, and is, and has remained my passion."
Fun fact: The 816-page resource was a family affair; Hughes' wife, Wimon Manorotkul, and their daughter, E. Billie Hughes, contributed to the book.
Ruby & Sapphire: A Gemologist's Guide is available for $200.
4.st but not least comes Gemstones: Terra Connoisseur by Vladyslav Yavorskyy, a globe-trotting gem dealer with a knack for taking beautifully composed photographs. Having shown off his skill with a camera in two previous volumes, Terra Spinel (2010) and Terra Garnet (2014), Yavorskyy returns this year with an exhaustive look at collectible gems, from aquamarine to zircon.
With passages written by a team of contributors (including yours truly—I penned the quartz chapter), the book comprises more than 260 tantalizing photos of the gem trade in action.
Gemstones: Terra Connoisseur sells for $88 (shipping & handling: $29).
News Source : jckonline.com