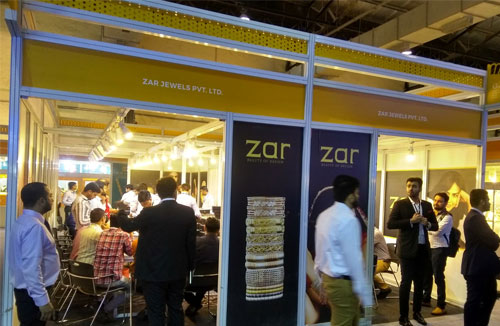 Signature IIJS 2018 which got underway on Friday February 9, 2018 saw the tempo building up on Day 2 – Saturday, February 10th.
There was a steady stream of visitors in all the halls and many of the individual stalls were busy through the day, packed with buyers viewing collections and placing orders. It was clear that those who got the product, pricing and marketing right were the greatest beneficiaries in the show.
Solitaire Jewellery Pvt. Ltd had some stunning diamond and colouredstone studded jewellery on display. Focussing on emeralds, rubies and sapphire – all of dark, deep shades – to combine with diamonds, Solitaire's jewellery is reminiscent of the Thai style, and available in a range from about Rs. 40,000 to Rs. 20 lakh. About 70% of Solitaire's jewellery is sold to trade buyers coming from all over India and 30% is exported to US; and, through their participation in the Hong Kong show, to buyers in other parts of the world. Sumit Pal from the company said that there has been good demand for their jewellery.
Swarnsarita Gems Ltd is showcasing both gold and diamond jewellery. Prateek Singhvi sums up the trend for his company saying: "Antique jewellery is popular, and items like necklaces below 150 gms gold are doing very well." While Swarnsarita's diamond jewellery also found reasonable demand, it was not quite at the same level as the gold jewellery. Explaining this, he says with a shrug: "You know the diamond jewellery market is about 20% of the gold jewellery market."
The highlight of Derewala Industries Ltd's offering is machine made and CNC (Computer Numeric Control) chains in both gold and silver, and in a variety of designs. Their jewellery too, has received a very good response says Rajeev Singh from the company.
On the other hand, Roopshree Jewellers Pvt. Ltd.'s products are entirely handmade. Participating in Signature IIJS for the first time, this Kolkata based jeweller specialising in gold ornaments has an arresting array of designs using a variety of traditional forms. One neckpiece for example was created with gold handmade carved naqash beads, with a large composite disc pendant with a red semi-precious stone in the centre, a band of delicate filigree surrounding it with circles of tiny beads rippling outwards from the filigree band. Vineet Nahata of Roopshree also confirms that his type of antique styled jewellery is getting a very good response currently. According to Nahata, (gold) necklaces below 100 gms (which translates very roughly to a price of Rs. 3.50 lakh) and bangles below 50 gms are doing well.
Then there are niche companies like MK – which has the tagline "Exclusive Designer Diamond Mountings". MK imports mountings of pendants, rings, bracelets from Korea and Turkey; while also sourcing some items from India. Rohit Patel of MK says: "Since everyone wants designer jewellery, and we source the most exclusive designs, we have been seeing good demand from jewellery retailers and manufacturers."
Mumbai-based Hemratna Jeweller's stall has several buyers busily picking out designs and putting them aside on trays. Clearly these are retailers from across the country that have come to stock up for the forthcoming season. A representative of the company, Kunal says it is the variety and quality (finish) of the product they are able to offer that has made them popular; and is the reason for the response they are receiving at the show. He says bangles, particularly, have been a strong product for them.
While there were many stalls which were filled with buyers, Zar Jewels Pvt Ltd was clearly head and shoulders ahead in terms of crowd pulling. Literally thronging with buyers, the large stall open on two sides gave a clear view of the palpable excitement of those inside. Zar offers gold jewellery of 8 gms to 100 gms – from Rs. 20,000 to Rs. 25 lakh. It stocks CNC jewellery as well as that made with other methods.
Bharat Takhtani, director of Zar, when asked about the reason for this rather larger than usual crowd at his stall says cryptically, "It is because of the distributors." When pressed for further elaboration, he explains that it is their network of distributors (wholesalers) — whom they have galvanised and supported in various ways (including providing them with marketing material) — who have canvassed their areas for clients. It is these clients who have turned up to visit them at the show. This has clearly been a winning strategy for Zar; and the planning and forethought towards a marketing effort has paid off.
News Source : gjepc.org