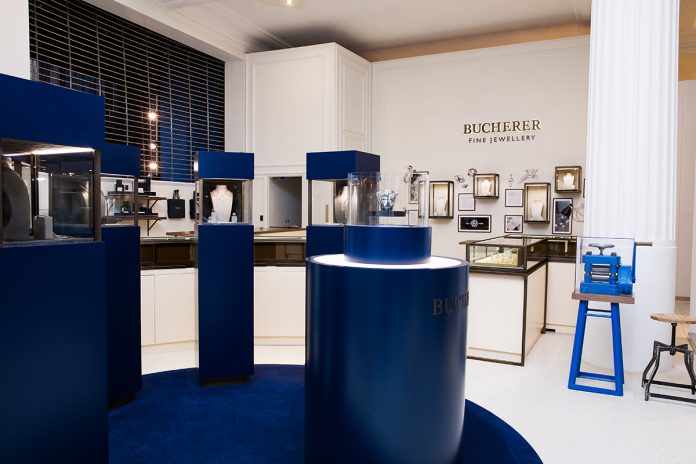 Bucherer is expanding its presence to London, and in a first step has opened a pop-up fine jewellery boutique at luxury department store Selfridges.
The pop up will be followed in Spring 2018 by the first Bucherer Fine Jewellery Boutique, in Selfridges' Wonder Room.
Bucherer's expansion into Great Britain began in March 2017 with the acquisition of The Watch Gallery and its six stores in London. The boutiques were renamed in the Autumn and have operated under the Bucherer 1888 brand since October 2017. In the future, the product range will include not only luxury timepieces but also Bucherer Fine Jewellery.
Now Bucherer is opening its first Bucherer Fine Jewellery Boutique, for which the company has chosen the world-famous Selfridges department store in Oxford Street, in the very heart of London.
The pop-up store will offer customers an unusual way to discover the brand. Within inspiring and relaxed surroundings, the store invites customers on a voyage of exploration into the world of Bucherer Fine Jewellery. Alongside selected items of jewellery displayed in the sales area, Bucherer Fine Jewellery will also provide an insight into the art of hand-producing exquisite pieces as practised by the House of Bucherer in its own workshops since its foundation in 1888.
The boutique will also feature a demonstration of Bucherer Fine Jewellery's specialist expertise in diamonds, and in a private lounge, customers will have the chance to design individual pieces of jewellery themselves. An individual, romantic message can also be projected onto the wall during the bespoke experience.
Today, Bucherer is one of Europe's leading watch and jewellery retailers. The Bucherer Fine Jewellery brand launched in October 2017, and represents the house's entire jewellery collection and the significance of this sector for the company.
News Source: professionaljeweller.com