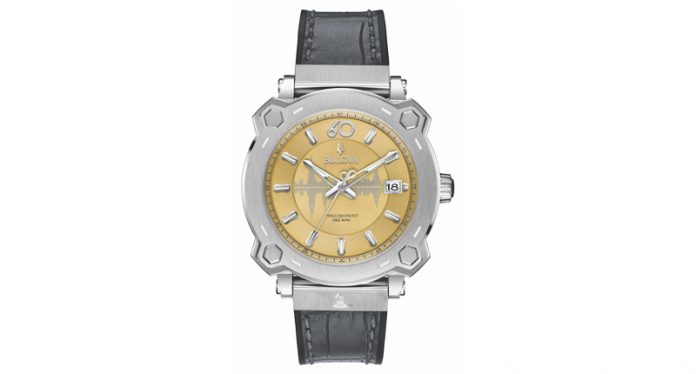 New York–The winners at the 60th annual Grammy Awards this weekend won't just go home with a statue, they'll also receive a Bulova watch.
Bulova is partnering with the award show and has created a limited-edition timepiece especially for it.
From Bulova's "Precisionist" collection, the Grammy timepiece features a stainless steel case with a multi-layer gold-tone Grammium dial. Grammium is a patented alloy created by John Billings, the same man who makes the Grammy Award statuettes by hand.
The dial depicts the New York City skyline, as the 60th annual edition of the awards are being held in the city instead of Los Angeles.
The watch also features a date window, a second hand that is proprietary to Bulova's three-prong quartz crystal Precisionist movement, anti-reflective sapphire glass, a screwback case with the Grammy logo, and a black rubber and croc-embossed gray leather strap.
"This year is incredibly momentous for not only the Recording Academy but also Bulova as we celebrate our musical partnership in our hometown," said Bulova President Jeffrey Cohen. "We look forward to a great event where we can highlight the new limited-edition timepiece, but also commemorate the 60th anniversary of the Grammy Awards with a special partnership announcement with Nile Rodgers."
This Saturday, Bulova will host a special event with a performance by Rodgers and his band, Chic.
Scott Goldman, executive director of the Grammy Museum, will interview Rodgers at the event about his career and his relationship with Bulova, which includes a spring ad campaign.
Evan Greene, chief marketing officer at the Recording Academy, said: "We look forward to kicking off this year's efforts with an exclusive performance by iconic, three-time Grammy winner Nile Rodgers during one of our coveted, highly anticipated Grammy Week events.
"We're thrilled to continue this extraordinary partnership with Bulova, and to commemorate our milestone anniversary with a special limited-edition timepiece that will be presented to all 60th Grammy winners."
The Bulova Limited Edition 60th Anniversary Grammy timepiece will be sold exclusively at Macy's Herald Square in New York City and on Macys.com for $1,150.
News Source : nationaljeweler.com