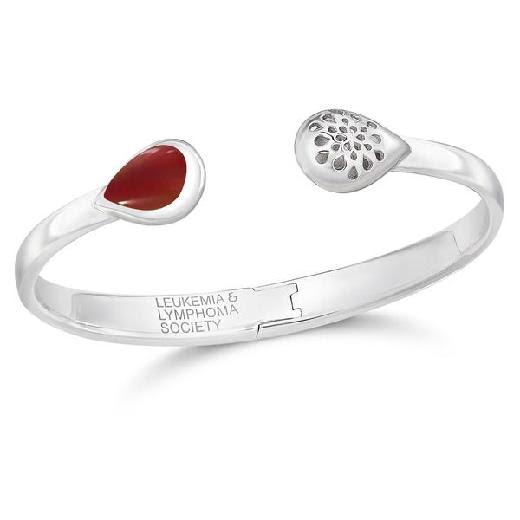 Jewelry marks every important occasion in our lives, but rarely does it help cure diseases: until now. Jewelry designer Cristina Sabatini has created a Cuff for a Cure bracelet that customers can preorder now for $100. All proceeds will be donated to the Leukemia and Lymphoma Society (LLS).
The cuff is made from sterling silver and showcases the LLS blood drop symbol as a brilliant red agate cabochon on one side of the bracelet and as a delicate flower on the other. "I quickly connected with the Leukemia and Lymphoma Society in particular on a personal level," said Sabatini. "My family has been deeply impacted by cancer over the years. At two years old, my niece was diagnosed with leukemia. Years later, my mother battled liver cancer."
Rebecca Foerster, executive vice president of marketing at Leo Schachter Diamonds, is also promoting Sabatini's Cuff for a Cure and the work of LLS on behalf of her mother. "My mom, my best friend, mentor, and inspiration, has been struggling with a chronic form of lymphoma for almost 10 years," said Foerster. "Many LLS-supported therapies not only help blood cancer patients, but are also now used to treat patients with rare forms of stomach and skin cancers and are in clinical trials for patients with lung, brain, breast, pancreatic, and prostate cancers. And LLS-funded drugs like targeted therapies and immunotherapies are now saving thousands of lives every day."
(Top: Cuff for a Cure made of sterling silver and a red agate cabochon; Cristina Sabatini)
Kristin Young is writing the All That Glitters blog while Amy Elliott is on maternity leave.
News Source: jckonline.com