Christina Malle's Summer 2020 jewelry collection utilizes pearls that minimize environmental impact.
New York, NY. June 22, 2020. The important shifts in conversation, reflection, and action that are happening in so many sectors are happening in the jewelry industry as well. There is greater attention on inequities around the world, including in the jewelry industry and along its supply chain. The jewelry industry has an enormous impact on people-including miners and cutters-and on the earth. As part of Ethical Metalsmiths, Malle and others have been raising these issues for several years; the events of 2020 have led more people to take stock and address these inequities. The way we treat people who produce the metals and gems is inexorably linked to the products themselves. A former human rights lawyer turned fine jewelry designer, Christina Malle is dedicated to the balance of aesthetic joy, while remaining sensitive to the realities of our ever-evolving world. For the third year in a row, she has collaborated with Pure Earth to support their Pure Earth Pure Gold Jewelry Auction. Christina Malle is donating an elegant South Sea Pearl Necklace, set in 18K Fairmined Gold, to the online event. In addition, the designer has launched a pearl capsule collection, using beautiful pearls that are cultivated in small numbers, by companies utilizing the highest standards.
Malle sees "responsible sourcing" as paying miners and cutters a fair wage, avoiding child and forced labor, buying from known sources who can back up their own claims of "responsibility," and by mitigating the environmental impact of extractive industries.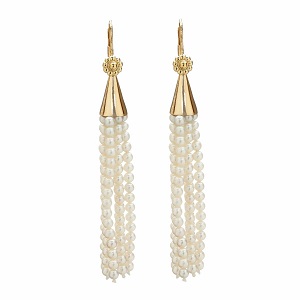 Pearl farms in Australia, where pearls like Malle's South Sea baroque pearls are sourced, require clean water to help create stunning pearls of the highest-quality; the oysters in turn play a critical role in keeping the water clean. This symbiotic relationship is advantageous to all parties involved in these specific pearl sites, as well as to the people who live and work nearby. Mass-produced pearls from freshwater sites may not come from venues that share this degree of environmental sensitivity.
In addition to these pearls, Malle uses Fairmined gold, which is traceable to the mining source. These miners are paid a fair wage, avoid or mitigate mercury, and reduce the environmental impact of mining. "Recycled" gold is actually very difficult to verify, since refiners often do not know the sources of their own gold. Malle uses gold with traceable origins, either recycling under-used pieces herself or purchasing gold from Hoover & Strong in Virginia, which vouches that the gold is Fairmined or actually recycled.
Malle's third annual contribution to Pure Earth's Pure Gold Jewelry Auction is her South Sea Pearl Necklace. It features a 15.8 mm pearl, sourced from Australia, on a 16-inch, solid 18K gold chain; the pearl and gold pendant is 2 inches long. The signature rosette echoes a detail in a 15th Century painting by Fra Angelico. To view or bid on Christina Malle's pearl necklace, access the Pure Earth Pure Gold Jewelry Auction here.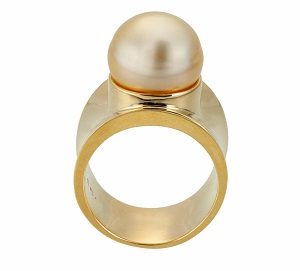 The piece comes from Malle's Pearl Capsule Collection, which also includes the Golden Pearl Necklace, Tahitian Black Peacock Pearl on Sapphire Necklace, the matching Golden Pearl Ring, the Tahitian Pearl Necklace, South Sea Pearl Earrings with Diamonds, and the Tassel Pearl Earrings. Made in New York City, Christina Malle's pearl capsule collection features a variety of styles available online at http://www.christinamalle.com, and through select retailers.
"Pure Earth is spearheading the pollution mitigation efforts around the world, whether it is removing mercury from the gold supply chain, or removing lead from materials used by artisanal artists. It makes perfect sense to support Pure Earth, since they are leading the hands-on, community-oriented solutions to reduce pollution. Their efforts have a direct impact on small-scale gold miners," says Christine Malle. She continues, "We in the jewelry industry must avoid polluting people and earth with mercury, and we may not exploit people along the jewelry supply chain. Can we truly call ourselves 'responsible' if we do not know where our materials are from, and if we do not know who benefits financially along the jewelry supply chain? How can we know more about the precise origins of our precious metals and gemstones? Traceability and transparency are two helpful places to start, as we work towards continual improvement. I believe in the importance of beauty in the world, especially during times of hardship, and want to make sure that this beauty is not discordant in any way."
Malle concludes, "Please ask all of your jewelers and makers where the gold, silver, and gemstones are from."
Pure Earth's mission is to reduce disease-causing pollution to save lives and protect the planet. Pollution is the largest environmental cause of premature death and disease today.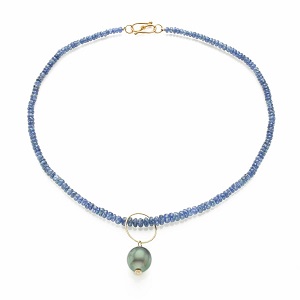 "Pollution knows no borders. When artisanal gold miners in Indonesia, Peru or Ghana use mercury to extract gold, they are not just poisoning themselves, their families, and their environment. Everyone is affected because mercury moves through the atmosphere, dropping into oceans and rivers worldwide. That is why pregnant women are often advised not to eat too much fish and sushi. Pollution is a global public health crisis, like the pandemic. We all must realize how interconnected our lives are and take steps to demand change," says Pure Earth President Richard Fuller.