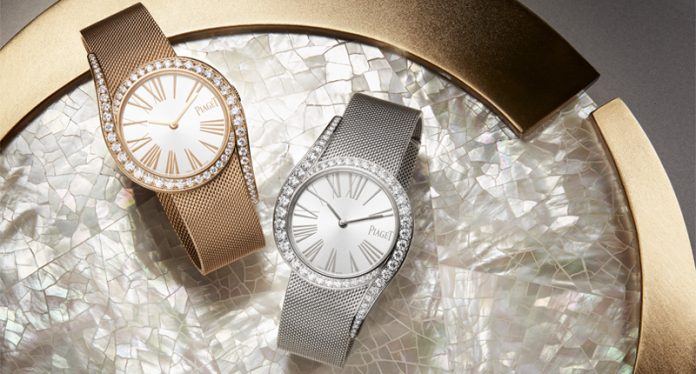 New York–A recent collaboration saw Piaget's Gala timepieces translated into a different category– handbags.
Handbag-designer-to-watch Nathalie Trad, who has a made a name for herself with her range of handmade luxurious, architectural clutches that are objets d'art unto themselves, looked to the Gala watch collection for inspiration for her most recent creations.
Trad said that the Limelight Gala Milanaise watch was one of her muses.
Piaget introduced the model in 2016. It features a finely woven, rose gold Milanese mesh strap.
Trad explained of the handbag she designed to complement it: "The rim is inlayed with brass in a hairline-polish finish in contrast with a body meticulously inlayed with a cracked mother-of-pearl, which reflects and catches the light beautifully as well as being an ode to craftsmanship."
The Decors Palace Bracelet watch, which features an elaborate woven gold strap that has a silk-like effect, served as another touchpoint for Trad's new collection.
"I thought the curve on this piece with the brass inlay and a hairline-polish finish was a beautiful way to reflect the light, particularly in contrast with the hammered brass it sits beside," Trad said of the clutch inspired by the Decors Palace.
The Gala timepiece collection was originally introduced in the 1970s and reemerged in 2013. There are 15 variations currently available, starting at $20,700 and going up to $49,400, plus high jewelry models, which are price upon request.
The collection includes white and rose gold versions, available with a white or black satin strap, Milanese bracelet or a fully gem-set strap.
"It is an honor for Piaget that our artistry and craftsmanship have been so beautifully captured in Nathalie Trad's recent line of pieces," said Piaget CEO Chabi Nouri, who was promoted to the position earlier this year. "With her unique collections captivating the minds of the fashion set across the globe, Nathalie herself is true inspiration and powerhouse of talent."
Trad's new handbag collection was presented at her boutique in Dubai, along with the timepieces that inspired them, earlier this fall.
News Source: nationaljeweler.com