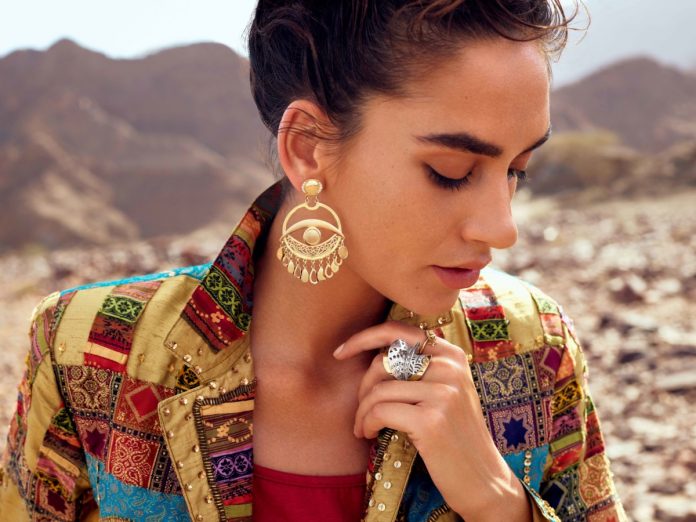 Luxury design house Azza Fahmy takes consumers on a cultural journey with the launch of 'Gypsy', a new collection for 2018.
Inspired by different cultures from the continents of North Africa, India and Asia, with a nod to the Ottoman Empire and Egypt's Eastern and Western deserts, Gypsy features 14 handcrafted pieces, which epitomise the spirit of avant-garde desert lifestyles and delivers a mix of multi-cultural characteristics and shapes of tribal jewellery while celebrating the modern nomad traveller.
The collection presents Azza Fahmy's unique, dynamic interpretation of fashionably large statement cuffs, featuring floral, geometric and motif detailing inspired by Islamic lanterns complemented by medium sized tribal collars with antique influences and shimmering precious stones, and stackable bangles.
Earrings provide a choice of the time honoured crescent shape with filigree interest and integrated star or the elegant eye symbols with delicately traced teardrop star feature in studs or hoop version and lace motifs detailing ideal for the mis-matched trend.
Synonymous with Turkish and North African desert communities was colour and clothing featured brightly coloured cotton threads which was also echoed in the stones and beads used in jewellery. Reminiscent of the threads, the 'Gypsy' collection is graced with an array of exceptional coloured precious stones including rubies, garnets, sapphires, citrine and turquoise together with white and champagne diamonds.
London Blue Topaz makes its debut in an exclusive limited edition drop shaped necklace and matching earrings.
In options of 18ct gold and the Azza Fahmy trademark metal mix of 18ct gold and sterling silver, the refined collection also incorporates classic pieces that features Arabic calligraphy with sentiments such as 'affection' and poetry 'everyone can hear my voice but only you can hear my heart'.
Renowned for translating cultural and historic references to modern jewellery designs and the use of time-honoured techniques, the warmth of the desert spirit is captured with the Gypsy collection designed with discerning modern style traveller in mind.
News Source : professionaljeweller.com