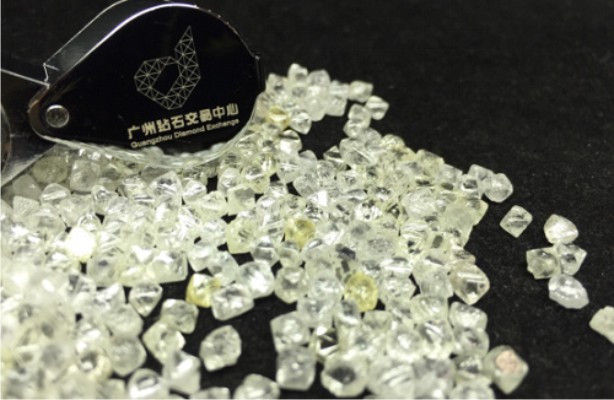 The Guangzhou Diamond Exchange (GDE) recently held its first rough diamond tender in Panyu, Guangzhou, from April 19-25. The tender was based on the international trading mode as used in Dubai and Antwerp.
"More than 230,000 cts (46 kg) of rough diamonds mined from Africa were put on tender, attracting around 200 industry experts from nearly 50 companies," GDE revealed when making the announcement.
The tender was a huge success with all parcels offered being sold. GDE said the total transaction amounted to almost US$ 6 million; with an import & export value of around US$ 11 million.
The GDE spelt out four pioneering achievements saying that this was "The first international diamond tender taking advantage of the innovative policies of China Pilot Free Trade Zone; The first large scale run-of-mine tender covering all types and sizes of rough mined from the origin; The first synchronized global tender based on the internet; The first time to realize China's right to speak in the international rough diamond pricing system."
It was in September 2016 when Guangzhou got the approval from the national ministry to carry out various trading activities including rough diamond bonded trade through the Guangzhou Diamond Exchange. This, together with what the organisation called "the policy innovation of China (Guangdong) Pilot Free Trade Zone" and the developed jewellery industry in Panyu, has led to Guangzhou emerging as an important centre for the international diamond trade.
Pic Courtesy: The Guangzhou Diamond Exchange
News Source : gjepc.org