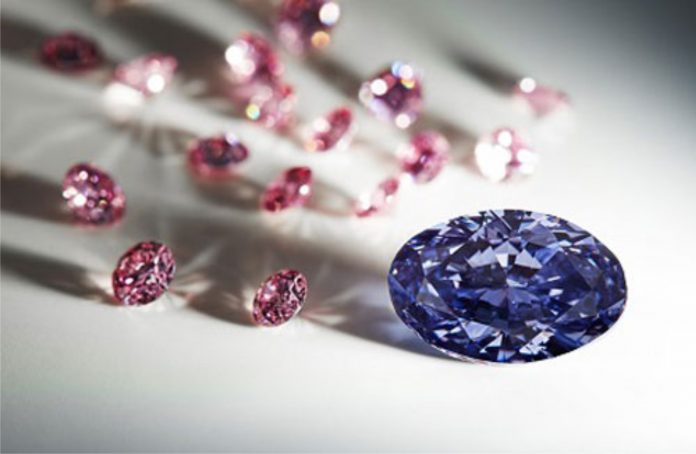 Leading Australian jeweller Linneys is lighting up the festive season in that continent in a very special way.
The jeweller is showcasing the largest collection of exquisite fancy coloured diamonds and diamond jewellery ever publicly exhibited in the Southern Hemisphere. Linney's puts the worth of the collection of jewels at a cool $ 100 million.
Linneys' Director David Fardon said: "Featuring the finest coloured diamonds from the Argyle diamond mine and across the globe, this exclusive showcase represents rarity never before seen."
The collection includes more than 75 fine jewellery pieces and important fancy coloured diamonds.
"The Argyle Violet™, an incredible gem which was the Hero stone of the 2016 Argyle Tender is the highlight of the collection," the jeweller elaborated. "The Argyle Violet, a 2.83 carat Fancy Deep Greyish Bluish Violet diamond recovered from Rio Tinto's Argyle mine in the east Kimberley region of Western Australia, is now in a stunning piece of jewellery surrounded by vivid pink diamonds."
The collection also features Argyle Thea™, a 2.24ct Fancy Vivid Purplish Pink diamond which was a signature diamond from the 2016 Tender now set in a classical platinum ring.
"We are delighted to present such a significant collection of coloured diamond jewellery to our clients and this is the first time in Australia we have seen a jewellery collection valued in excess of $100 million," Fardon added.
The value of the highly collectable rare pink diamonds from Argyle has continued to appreciate as the mine moves closer to the end of its mine life, Linney's noted.
Pic Cap: Pink and Violet coloured Argyle diamonds
Pic Courtesy: Rio Tinto
News Source : gjepc.org