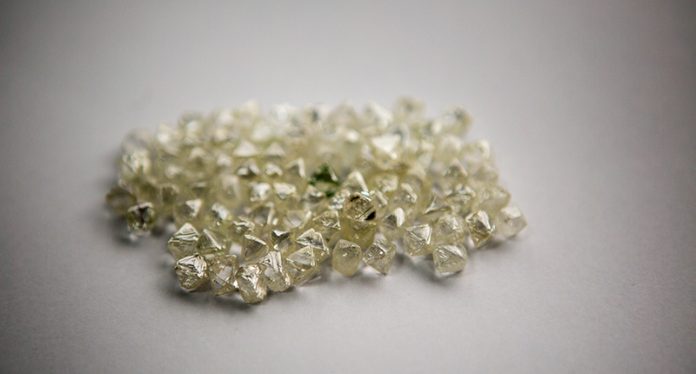 New York–Blockchain is a technology that's poised to transform industries in the coming years, and De Beers wants diamonds to be one of them.
Last week, the diamond miner and marketer announced it has launched a pilot blockchain program for diamonds in partnership with BCG Digital Ventures, a subsidiary of Boston Consulting Group that's investing heavily in blockchain.
Best known as the technology behind bitcoin, blockchain is a secure digital ledger that is decentralized, meaning it exists across multiple computers and servers and is not owned by any one user or organization.
For the diamond industry, De Beers's David Prager said it will be used to register each interaction with a stone—like when it is cut at factory or graded at a lab—that then becomes part of the "block" of information about that particular diamond as it passes through the supply chain.
Each block must be validated by the blockchain community before it is added to the digital ledger.
When "chained" together, these individual blocks will form a digital record for each diamond.
Though it is being developed by De Beers, Prager said the diamond blockchain will be accessible by all industry participants, but will not include lab-grown diamonds.
"This is a diamond blockchain to record a diamond's journey as it passes through the full value chain," he said. "It is not for other products, whether they be lab-grown, precious metals or simulants. This means that the diamond blockchain will be able to provide the industry and consumers with clear and unambiguous assurance that their diamond is natural."
It will be governed by an independent, nonprofit organization, the details of which are still being worked out.
A key focus of the pilot program is making the blockchain compatible for a range of operating systems for computers and phones.
When asked which companies will shoulder the extra cost blockchain will bring to the supply pipeline, Prager said De Beers is making the initial investment in blockchain because it believes it's important for the diamond industry and that, ultimately, the efficiencies it will create in the supply chain will reduce the cost of doing business for many users.
Having a Blockchain for diamonds would serve several purposes that De Beers and other players undoubtedly see as critical to the industry at this juncture.
First, keeping track of stones from mine to market allows the people who sell them to comfortably say this diamond is what it's being presented as—for example mined, not lab-grown—and comes from an area of the world currently free of conflict.
Secondly, having a product that is traceable is more attractive to banks, which have been exiting the industry in great numbers due to concerns about diamonds being tied to money laundering.
"We are very excited about this initiative and the benefits it could deliver across the diamond value chain, from producers through to retailers and consumers," De Beers Group CEO Bruce Cleaver said. "We look forward to continuing to engage with industry stakeholders as we progress development of the platform over the coming months."
De Beers said its pilot blockchain program involves a "small number of participants." While it isn't disclosing company names, it said the partners "span the diamond value chain" and do include some sightholders.
A full launch is expected to take place later this year.
De Beers executives were in New York ahead of the Gem Awards and 24 Karat Club events last week pitching their blockchain project to the broader industry, including members of the U.S. Jewelry Council, a group of trade organizations that work together to ensure U.S. representation on responsible sourcing issues at the governmental and international levels.
Among those in attendance was Ronnie VanderLinden, president of the Diamond Manufacturers & Importers Association of America (DMIA), who said, "While this is still at an early stage of development, De Beers's willingness to cooperate with and seek advice from all industry participants bodes well for successful development and implementation of this initiative. We look forward to continuing to work with them as it develops so we can make sure our members stand to see maximum benefit."
De Beers has launched a website specifically for blockchain, which includes a section where visitors can sign up to receive updates as the project moves along.
While the miner and marketer works on developing a blockchain specifically for diamonds, a separate effort is underway to apply the technology to the colored gemstone supply chain.
Swiss gem lab Gübelin announced earlier this month that it is working with technology company Everledger to develop a program that will trace colored gemstones from mine to market, which it says will be the first of its kind.
News Source: nationaljeweler.com