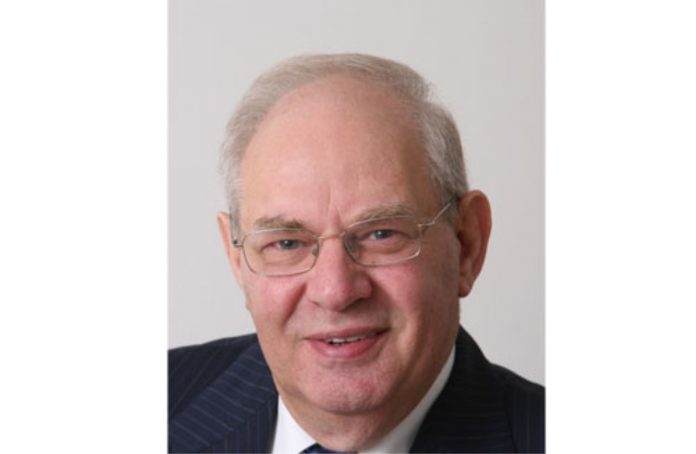 Chaim Even-Zohar, editor-publisher of the Diamond Intelligence Briefs and one of the foremost analysts of the diamond industry, recently announced his intention to retire. Chaim has been much more than a journalist, analyst, and moderator of conferences. He is the tabulator of the figures of the diamond industry's pipeline; and the keeper of the industry's records. His collating of facts, his in-depth analysis, and his ability to link different parts of the supply chain in order to paint the big picture, have been of utmost significance for the diamond industry to both, understand and work, within the eco-system it operates in.
What has been noteworthy about Chaim's writing is his determination to follow the facts and stick to them unflinchingly no matter where they led. He has also been instrumental, through various ways, in spurring the development of the diamond industries of various countries notably in Africa, and even of India.
Most importantly, his has been the voice of the conscience of the diamond industry at its shining best. Now, that voice will go quiet; and that pen – or mouse – which composed a myriad articles probing all the good, the bad and the ugly within the diamond industry, will go dormant.
Chaim has been part of the diamond industry since the early 1970s and has worn many hats in the four-and-a-half decades that he has been around. But his life and work needs no telling to the industry which knows, and has seen both, from up close.
Perhaps, Chaim's greatest accomplishment is the ease in which he established a rapport with persons and personalities across the pipeline and across regions. Whether it was the heads of companies like De Beers, mining ministers of African countries, or heads of organisations like GJEPC, WFDB, WDC et al, he was at once close to, yet at an objective enough distance, to be able to tell it like it was. So that even when he was at his most critical, no one could dismiss him or what he was saying; nor question his motives. For not only was his writing based on deep and impeccable research, it was also founded on the soundest ethical principles.
In a telecom, Chaim said to us: "I have enjoyed every moment I have been part of the diamond industry and feel deep satisfaction at what I have been able to achieve. But the job is not yet done. There is still much to be achieved. But now, it is time for the younger generation to take the work ahead."
All we can say is that there will be a huge void left with Chaim's retirement. And commentary and analysis of the diamond industry will never be the same again. He is too tall and storied a figure for his mantle to slip on to another shoulder; and his shoes too big to be filled, easily.
Chaim has been particularly close to the Indian diamond industry – he was perhaps one of the earliest amongst international writers to recognise the importance of the centre which was home to the largest cutting and polishing industry worldwide. He realised that if this is where the weight of the industry – in terms of sheer carats produced, and later also holding significant value share of the polished diamond market– was centred, then it is the most important manufacturing centre and this must be reflected across the board. He has interacted closely with the vanguard of the Indian industry, sharing his insights, knowledge and expertise and has helped greatly in its leap to world leadership.
While we are extremely sorry that Chaim will not be an active participant in the diamond industry in the future – unless of course he effects a comeback, and in this forever industry, who can dare say never! – we wish him all the very best for his retirement years. We are sure he will make them as animated, and as meaningful – albeit in different ways — as he made his professional career.
But how could we say Adieu to the stalwart without a few words from Chaim himself, addressed to our readers?
In our telecon, we asked Chaim about his early recollections about India's industry. Here is what he had to say:
"Remember how in the 1970's-1980's the traditional diamond centres joined forces to fight India's phenomenal rise and aspirations to become — almost within the time span of a single generation — the global diamond industry's principal country of value creation. India's membership in international industry bodies was delayed. Its "near-gem" and Argyle-type of output was excluded from the diamond cartel's powerful generic diamond promotions. Though India provided the producers with windfall profits from what had become otherwise (to them) almost value-less industrials , India was nevertheless never "intended" to become the industry's dominant diamond industry and trade powerhouse successfully handling all quality ranges.
"My deep admiration for India gained added impetus when around the turn of the century I got my copy of a few hundred page GJEPC document "Indicative Medium Plan for Export Targets" and "Export Strategies." [I think you called it the Ferguson report.] I realised that India's massive industry had exceptional leadership, it sets targets, it knew precisely where it was going, and it diversified into jewellery production rather early (something that was resisted in some traditional diamond centres). It had vision!
"Most importantly – the Indian diamond community always enjoyed a democratically elected leadership that was able to generate wide-spread support also for difficult and unpopular (such as anti-round tripping) measures. If the diamond business is compared to a beautiful diamond ring, then India is undoubtedly the centre piece – gracefully displaying some smaller stones around it…
"Its successes have also come at a price. India paid the heaviest price for misguided rough producers' distribution strategies "rewarding" a client's excessive banking borrowing and implicitly encouraging the withdrawal of their own equity from the diamond business. Thus, while on the one hand, it was the diamond industry's principal added-value producer, on the other hand, it saw the profit part of this value-growth declining – and being pocketed mostly by producers and banks. Survival caused many companies to devise schemes in which they made money "from" diamonds, rather than "in" diamonds. In the wake of the current shake-out, in which some companies will disappear, those who make money "in" diamonds are those who will successfully prevail."
We asked Chaim what is the most burning issue he is leaving behind. He said:
"The withdrawal of traditional banks from the industry is an issue on which the trade press should focus in the years ahead. But the industry shouldn't worry too much about it. The financial services industry is all set to undergo a sea-change and I expect that the technology minded, very young, dynamic and well educated Indian entrepreneurs will recognise how to take advantages of the fast-paced innovations – especially block-chain technology.
"Powered by block chain technologies, Bitcoin — and almost close to a thousand (!) other new crypto currencies — will facilitate a faster and more efficient way to execute financial and business transactions. Block chain technology offers both banks and diamond companies many advantages compared to traditional business, such as better accessibility, greater transparency, lower fees, and quicker transactions.
"It has been said that block-chain will do the financial world what the internet has done to the media, to the journalism business. This will dramatically change the way the global diamond industry will be organised, will function, and will grow and grow. If I have learned anything in the past forty-five years, I am absolutely convinced that the central stone in the diamond industry ring will only go from sparkle to sparkle."
……………….
Meanwhile, Ernie Blom President of the World Federation of Diamond Bourses paying his tribute to Chaim in a press statement said: "I don't think it would be an exaggeration to say that Chaim Even-Zohar has had a huge impact on the diamond business for the past several decades. His breaking of big news and other work based on exceptional research and contacts made him a hugely important figure in our business right around the globe.
"I have known Chaim for many years, and always found him to be a person of integrity who was determined to get to the very root of stories. He would not be put off by threats, and declined to take advertisers so that he would not need to take commercialinterests into account when reporting. The DIB, which so many of have looked forward to receiving every week, will be sorely missed, and Chaim will be missed even more, I am sure. On behalf of the WFDB, I send him best wishes for a long and enjoyable retirement."
News Source: gjepc.org