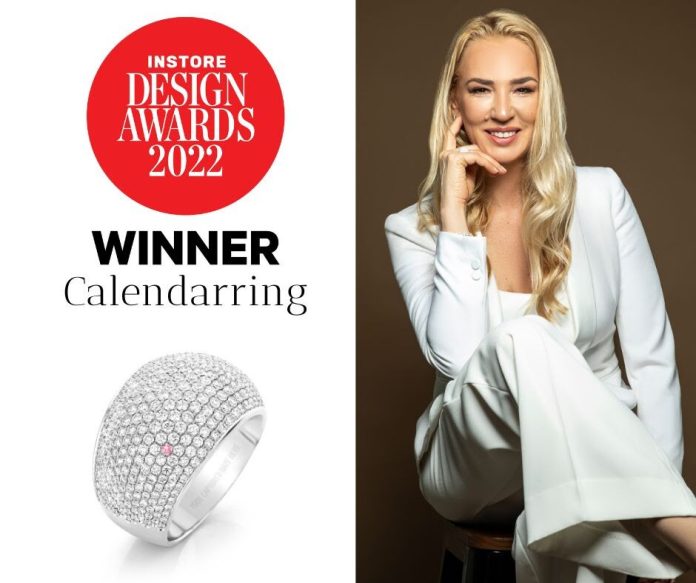 Jewelry designer Alice Sunderland was the only European finalist to win the annual INSTORE Design Awards in the United States. Alice received the first prize in the category 'Personalized Jewelry'. The INSTORE Design awards is considered to be the leading authority within the jewelry industry when it comes to the best and most innovative jewels. Theirs is one of the largest design contests for jewelry designers within the industry.
Alice Sunderland was nominated in the category 'Personalized Jewelry' with her famed Calendarring.
This special ring consists of 365 sparkling diamonds, placed in 12 rows. Each diamond symbolizes a day of the year. This allows for a colored diamond to be placed on a date that is of special significance to the wearer, so that this memorable date can be immortalized. Like the birth of a child, an engagement, or another significant event. Each Calendarring can be personalized by means of the colored diamond, which makes it a very worthy finalist in this category.
Jewelry designers from all around the world sent in their most innovative, impressive jewelry designs, which they consider to be a great representative of their brand.
More than 20.000 jewelers, jewelry-influencers and jewelry-editors voted for their favorite jewelry design.
"It is truly a great honor to place as a finalist in such a large, international jewelry design contest – and to feel the recognition of influential people in the jewelry industry. It is fantastic to see how the United States has now discovered my Calendarrings as well. This is a great first step towards introducing my personalized jewelry to the American market," says Alice, founder and jewelry designer of the brand Alice Sunderland.
About Jewelry Brand Alice Sunderland
High-end jewelry brand Alice Sunderland is known as the ultimate jewelry brand for celebrating the special moments. The brand has gained fame with its Calendarrings, that have been set with 365 sparkling diamonds and are available in the 4 different varieties; white gold, yellow gold, red gold and the limited edition.
Alice Sunderland specializes in designing customized jewelry that focuses on a moment, story or memory. This allows for the creation of personalized, timeless jewels with a special meaning, that can be passed on from one generation to the next.
The brand only uses high-end materials, including 18-carat gold, diamonds and gems. The design studios of Alice Sunderland are located in Amsterdam, The Netherlands, and Antwerp, Belgium.
The special thing about Alice Sunderland jewelry is that each jewel is a personal one. In both her jewelry collections and her customized pieces, symbolism plays an important role. The personal touch that can be added to each piece truly makes each jewel one of a kind.
In October 2022, the brand will be launching a brand-new collection in the Netherlands, that will once again feature the special moment.