The Best New Store or Store Refurbishment category was added to the Professional Jeweller Awards last year to honour companies that have adapted their retail environments to meet new demands, and Fitzgerald Jewellers was definitely a worthy winner of this accolade.
Located in Canterbury, Fitzgerald Jewellers refurbished its store to create a homely space to sell and showcase its homemade products.
Proud to have had a goldsmith on site since before the war, the store refurbishment was inspired by industrial trends, using traditional materials such as metal, wood and concrete to nod to its history.
With an emphasis on wanting to be warm, welcoming and relaxed — deep heritage colours have now been used throughout the shop to create a living room feel.
By enlisting independent tradesman from the local area, the jeweller reached its desired results, with the revamped space leading to a 50% year-on-year increase in turnover in the first eight months.
Fast forward to the end of the retailer's first year in the new-look boutique, and sales for 2018 were up 37% on the year before, whilst average transaction values increased by 19% during the 12 months.
Moreover, a move to make the workshop more visible and welcoming – with customers invited to take a look inside and see jewels come to life before their very eyes – has seen bespoke sales now account for almost 60% of business — a 20% jump from the year prior.
The environment is comfortable yet aspirational with velvet adornments and Persian rugs placed in a space adorned with fun printed wallpaper and fabrics.
In Canterbury, it really stands out, and has been attracting a new audience for the British jeweller.
Talking about how the business stands out from the competition, the retailer's creative manager, Olivia, says: "We look very different. We appeal to a different market. We've still got all of our customers that were here before, such as the older generation, but they have warmed to the fact that it is run differently now and it is a bit more of a younger feel."
"Because of that," she continues, "we also get a lot more younger people coming in. It seems to be appealing to a new market and people like us because they say we have a very different approach. We are quite laid back, and not in a lazy way, but we are much more friendly and go out of our way to make people feel comfortable. The shop is a bit like a home. It's warm and inviting, and I think that stands out from the cold and traditional bright light jewellers."
Letting people into the workshops has been a big appeal, especially with bespoke accounting for the majority of the retailer's business.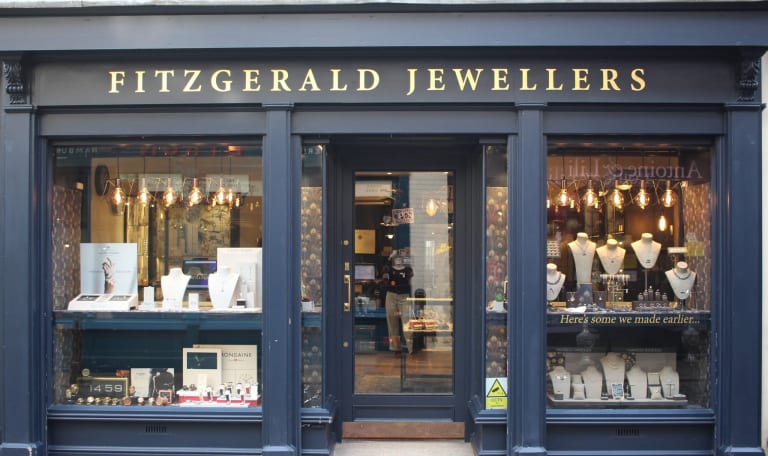 Once inside the workshop, many are pleasantly surprised to find young women, who are happy to help and advice anyone on how to create a personal piece, working away at the benches.
"When we say we have goldsmiths people assume we have a guy in a dirty apron who sits there quietly all day, but both our goldsmiths are female and I think people absolutely love that — especially our female consumers. People find it empowering that their engagement ring has been made by a girl, and we represent a range of styles as well."
When asked how the company advertises its bespoke offer, Olivia says a lot of business comes through word of mouth, but the company also attends wedding fairs and promotes it heavily on social media through creative ways.
In fact, Fitzgerald Jewellers also attribute a change in marketing and the way it uses social media to last year's annual sales boost.
The creative manager explains: "We have shifted our main focus to Instagram and we use it to do different campaigns. We try to make Instagram like the shop, so we have quite an immersive feed, but we also try to do something different each month. For example, for Valentine's Day we did a month of colour in a bid to try and stand out and it really improved our followers. People have also come in as a result of it."
Olivia continues: "Instagram is a funny one, although we were generating interaction with people, we weren't getting much custom from it, but I feel that now we are generating footfall from it and are seeing people coming into store because they saw something on Instagram."
Once someone has been introduced to Fitzgerald Jewellers they can enjoy a unique customer experience, and have the opportunity to attend memorable events. One thing that works well for the independent jeweller is an event called 'An Evening at Fitzgerald'. This is where one customer invites up to seven friends to a night-in at the store.
With the boutique on lock down, attendees can shop and browse privately whilst asking the team questions and enjoying food and gin from the retailer's exclusive gin menu.
"They've got the store to themselves to try on whatever they want, ask any questions, and bring in old jewellery for recycling ideas," shares Olivia. "It is a laid back evening where people can just socialise and talk about jewellery if they want to. I think sometimes people feel a little bit intimidated coming into jewellery shops because they have got a certain feel about them, but these events work really well. It's a successful event we do."
2019 is a special year for Fitzgerald Jewellers as store owner, Trevor Fitzgerald, is celebrating 40 years in the industry!
This will be marked with customer events and charity initiatives — including a 40K walk for 40 years.
News Source: professionaljeweller