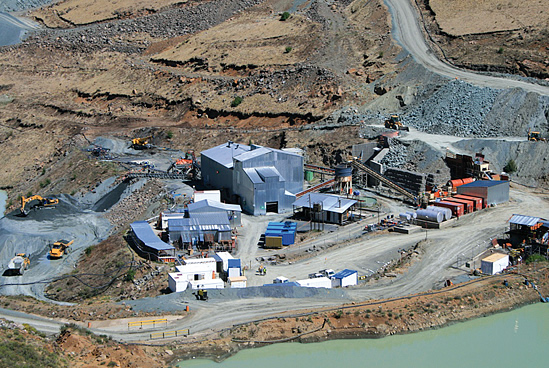 Firestone Diamonds plc reported a profit after tax of US$13.6 mn for the financial year ended June 30, 2016, but clarified that this was on account of recognition of tax credits of US$22.6 million, which, if excluded, present a loss of US$9.0 million compared with the prior year loss of US$10.4 million. The tax credit relates to the tax benefit of losses incurred in prior years.
The Group had no revenue from the sale of diamonds as it was still developing its Liqhobong mine during the 2016 financial year.
Releasing its final audited results for the last year, Firestone also said that the construction of the Liqhobong Diamond Mine which was 85% complete as of June 30, has been completed by October within budget and ahead of schedule.
Full production rates at the site are expected to be achieved in early 2017, with the first sale of diamonds recovered from this mine scheduled to take place in Antwerp in January 2017. Firestone said that it expects to be a one million carat per annum producer shortly.
The Liqhobong Diamond Resource (sum of Indicated and Inferred Resource) is 23 million carats and the in-situ value (base case un-escalated) is estimated at US$3.0 billion.
At the year end, the Group had cash and remaining debt facilities of US$49.3 million with a further US$40.3 million to be spent on the Project and corporate expenses leaving headroom of US$9.0 million excluding the US$15.0 million standby facility. The funding structure as at the year end is sufficient to fund the Group beyond its first sale of diamonds,
The Company also noted that its proposed sale of the Botswana operations to Tango Mining had to be terminated though it remains committed to seeking ways of advancing/unlocking value from its Botswana assets.
Lucio Genovese, Non-Executive Chairman, said, "Firestone will soon be joining the short list of global producing diamond miners delivering one million carats per annum. This is a milestone the Company has been working towards achieving against the backdrop of an extremely challenging mining sector climate."
Stuart Brown, CEO, said, "The Company's first diamond sale is scheduled to take place in Antwerp in January 2017 and thereafter, we propose to host two sales per quarter."
In a separate statement, Firestone announced the appointment of Deborah Thomas as an independent Non-executive Director with immediate effect. Debbie will chair the Audit Committee. She retired as a partner from Deloitte in May 2016 after a career spanning 22 years, during which time she has gained extensive experience advising some of the world's leading mining companies. Her experience includes working in the UK and African practices of Deloitte where she was Head of the Metals & Mining Team and latterly Head of the Africa Services Group. She was also on the board of the Deloitte UK Global Markets group.
The Board also said that Braam Jonker, who joined the Board in December 2011, will step down with immediate effect. He was also chairman of the Audit Committee.
Pic caption: The Liqhobong Mine
(Courtesy: Firestone Diamonds)
– News Source : gjepc.org