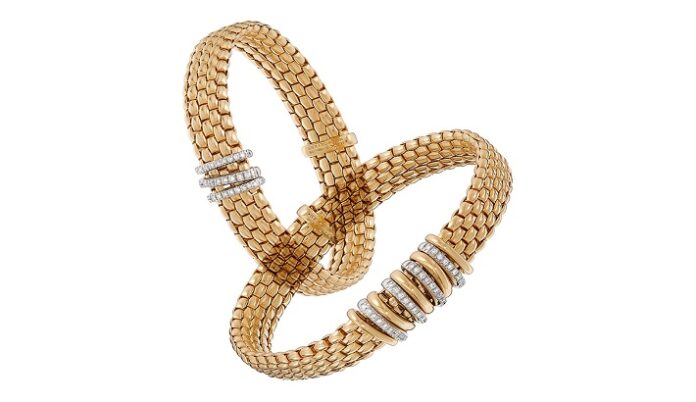 The FOPE design has always had a strong distinctive character that derives from the original Novecento chain: a timeless classic, an elegant gold link available in numerous thicknesses and designs.
And since the company was founded in 1929, the resulting jewels have represented a strongly Italian idea of ​​style.
If in 2007 the launch of the patented Flex'it system represented a unique and inimitable concept in the world panorama, an invention of the FOPE laboratories at VOICE 2020 will present, in addition to the historical lines between flexible bracelets and rings thanks to microscopic hidden 18kt gold springs in the weave of the jersey, an original and exclusive technique, also the new Flex'it jersey and the splendid Panorama collection. It is an original creation that testifies to the elegance and production excellence of the Vicenza brand.
In particular, the new Panorama collection represents a celebration of the typical concept of discreet luxury that has always distinguished the brand – adding an extra touch of preciousness. Its design consists of a declination of the iconic twentieth century, but this time the shirt is wider and has a very low thickness, thus resulting almost flat and giving an unprecedented feeling when worn. Features of this new collection are also the gold bars, present in variable numbers and with different carats.
Bracelets and rings are only available in the original Flex'it version, and the addition of the choker necklace and earrings makes the new sets a fantastic complement to the FOPE range of jewelry.
Furthermore, like all Flex'it sweaters, Panorama required a considerable technical and technological commitment and it took 24 months from the first sketches of the designers to the industrialization of the product. It is therefore not only elegant and comfortable jewels, but also beautiful innovative and original objects, unique in their kind.
News Source : vicenzaoro