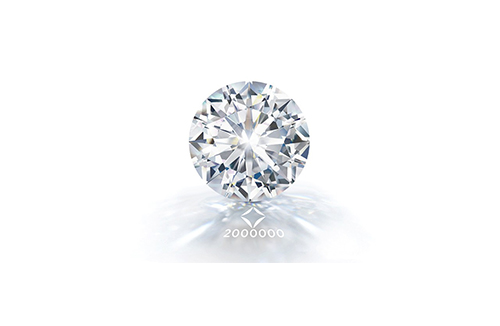 Forevermark, the diamond brand from the De Beers Group recently inscribed its two millionth diamond, thus crossing a milestone. The diamond in question is a 3.48 carat round brilliant and bears the unique inscription of '2,000,000'.
"The diamond was mined, cut and polished in Namibia and inscribed at the Forevermark Diamond Institute in Surat, India," De Beers announced. "It will be set in a piece of jewellery at the Forevermark Design and Innovation Centre in Milan, Italy."
The Company also said that Louise Kriek from South Africa, the 2015 runner-up of De Beers Group's Shining Light Awards, will work on the design "under the Forevermark design team, as part of a three-month internship at Forevermark in Milan".
De Beers had instituted The Shining Light Awards to support aspiring jewellery design students across Botswana, Namibia and South Africa a while back.
"The diamond will ultimately become part of Forevermark's exclusive red carpet collection, to be worn by celebrities at major events and award ceremonies around the world," De Beers stated.
The two millionth mark follows hard on the heels of another milestone moment – that of Forevermark being available in more than 2,000 retail outlets worldwide – announced earlier in February this year.
"The two millionth inscription reflects the continued growth of the Forevermark brand, which has gone from strength-to-strength since launching nine years ago," Stephen Lussier, CEO of Forevermark, commented. "This demand is being driven by consumers who want certainty that their diamonds not only possess the highest standards of beauty, but also come with the guarantee of being responsibly sourced."
He concluded: "The unique inscription reflects the quality and rarity of each Forevermark diamond, as well as the stringent standards it meets as it makes its journey from mine to wearer."
News Source : gjepc.org