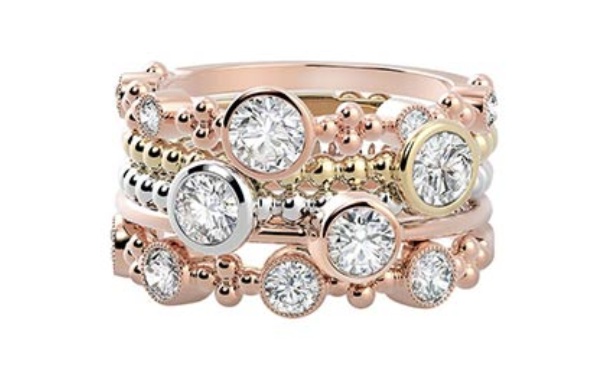 Forevermark has launched The Forevermark Tribute™ Collection, and its accompanying advertising campaign for the 2017 holiday season. The Forevermark Tribute™ Collection celebrates and pays tribute to the unique qualities and characteristics of a woman. Each Forevermark diamond featured in the multi-diamond designs is representative of a woman's multi-dimensional personality.
The collection is comprised of an assortment of layered pendants, stackable rings and drop earrings available in varying sizes starting from 0.10 carats as well as a variety of diamond shapes set in 18k white, yellow and rose gold. The pieces can be harmoniously stacked or layered to pay tribute to the individual characteristics, style and personality of the woman wearing them.
In conjunction with the Forevermark Tribute™ Collection, a multifaceted marketing campaign will drive consumers in-store with the emotional, call-to-action concept celebrating a woman's unique attributes and personal achievements. Comprised of a television commercial, print, digital and social creative, the campaign will motivate gift giving not only between couples, but also between generations, sisters, friends, and for self-purchase.
Directed by Hugo Stenson, the commercial was filmed on location in Toronto, Ontario and features a cover of the Fatboy Slim song "Praise You." The commercial debuts nationally on November 6th during ABC's Dancing with the Stars, followed by CBS's Scorpion, with 30 and 15 second spots on network prime stations including ABC, CBS, and NBC, as well as on numerous male-targeted cable networks such as ESPN, NFL Network, Discovery, Science, Velocity, History, as well as during Sunday NFL Football and in Screenvision network of cinemas nationwide.
The Forevermark Tribute™ Collection print campaign featuring both lifestyle and product creative will run starting in November issues throughout Q4 in publications targeting affluent male and female consumers such as Glamour, W Magazine, Conde Nast Traveler, Esquire, Wired and Sports Illustrated.
Digitally, The Forevermark Tribute™ campaign launched on October 11th and will run through Christmas including paid search, paid social media, and on targeted networks, and mobile and premium websites such as Who What Wear, BBC, Bloomberg, The Atlantic, Washington Post, YouTube. Goop, ESPN, and Pandora.
The Forevermark Tribute™ Collection is now available in participating Forevermark jewelers throughout the country. Partnership advertising materials, as well as in-store support for The Forevermark Tribute™ Collection will be available to all participating authorized Forevermark jewelers.
The Forevermark Tribute™ Collection and accompanying campaign launch on the heels of the De Beers Group's announcement made last month partnering with UN Women to empower women in its diamond producing countries, across its businesses and in its marketing campaigns.
News Source : theretailjeweler.com