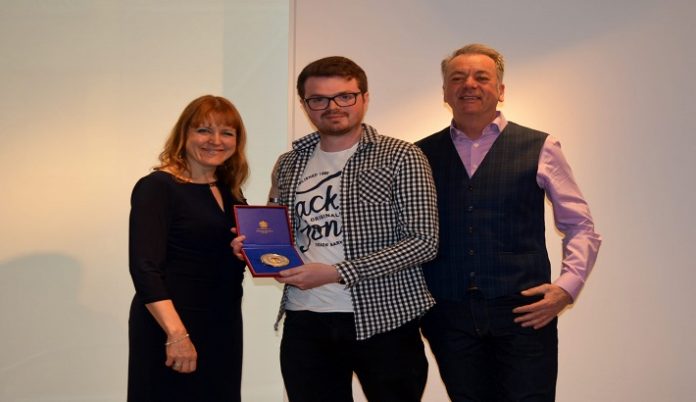 Will Lander, the former apprentice to Harriet Kelsall, has been awarded the Goldsmiths' Company Apprentice of the Year award.
Presented by prime warden Michael Prideaux, Lander's skill, attitude and commitment were recognised at the Goldsmiths' Centre in London.
Since his five-year diamond-mounting apprenticeship at Harriet Kelsall Bespoke Jewellery, he has won a number of awards including a gold medal at WorldSkills in 2014.
As has been the tradition for the last 700 years, Lander concluded his Goldsmiths' Company Apprenticeship in 2018 with a Freedom Ceremony at Goldsmiths' Hall, where he presented his palladium and 9ct gold primrose-inspired necklace to the Goldsmiths' Wardens.
The necklace is on display alongside the work of all the Goldsmiths' Company apprentices who have completed their apprenticeship within the last year.
The work will be on show until 24th April 2019 as part of the annual exhibition.
Peter Taylor, director of the Goldsmiths' Centre, commented: "It is through commitment, passion, talent and drive, and the outstanding training from their Masters that means that Goldsmiths' Company apprentices, like Will Lander, go on to excel and help to secure the future of the industry."
He added: "We're are delighted that this year Will has been selected to receive this award. It recognises not only his achievements as a craftsman but also the contribution that he has made to the scheme as a whole as a mentor to younger apprentices and those taking part in WorldSkills."
NewsSource: ProfessionalJeweller