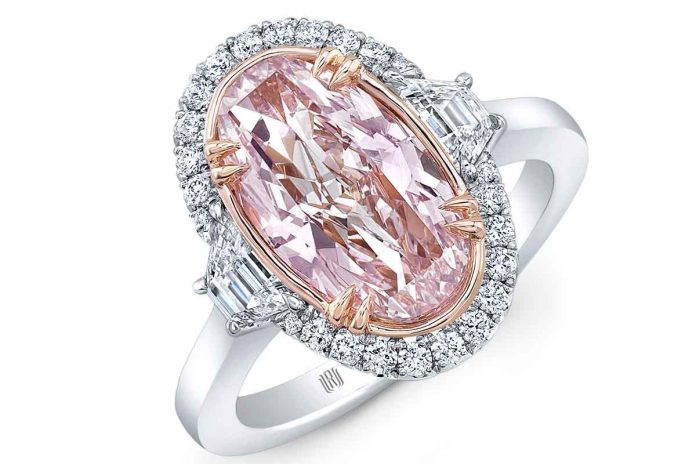 Rings that are oh-so-rosy
Pink diamonds are pure magic—even though their color is technically considered warm, they appear as cool as ice. Perhaps it's like a strawberry-flavored ice, or a glossy piece of candy. I remember some years back, maybe eight or nine, when a pink diamond engagement ring was just the living end—I can't remember which celebrity it was that got engaged with one (maybe you can remind me?), but we had brides-to-be coming into the store just insistent on finding a pink diamond engagement ring. Still, they were fairly difficult to come by: Even as I sit here, with a generous assortment of diamond ring images, only a handful of them are pink. And there's so little knowledge about them in the consumer world: After a quick search of pink diamond information, the top questions I see are: "Are pink diamonds real diamonds?" and "Are pink diamonds rare?" The answers, of course, are that yes, they are real diamonds (unless—hopefully—disclosed as otherwise), and yes, they are rare (though in the late 1980s, Australia's Argyle mine had increased the availability of pink diamonds in the market; the mine is reportedly due to close in 2020).
A fun fact for those as obsessed with the Netflix series The Crown as I am: One of the most famous pink diamonds—originally a 54.5 ct. crystal section fashioned into a 23.6 ct. round brilliant dubbed the Williamson Pink—was gifted to then-princess Elizabeth on her wedding day.
But back to these: five pink diamond rings that, though they would certainly make for beautiful engagement ring options, I think could be worn however and for whatever purpose one pleases, so long as one has the budget. Dreamy, sweet, and luxurious as hell—behold these five pink diamond rings.
Ring in platinum with 1.02 ct. fancy light pinkish-purple radiant-cut diamond and 3.44 cts. t.w. round diamonds, $143,000; Setaré Diamonds
Three-stone ring in 18k white and rose gold with 0.55 ct. t.w. Argyle fancy pink diamonds and 0.31 ct. t.w. round brilliant diamonds, $29,950; Leibish & Co.
Ring in platinum with 2.32 ct. oval fancy pink (GIA) diamond, 0.56 ct. t.w. trapezoid diamonds, and 0.23 ct. t.w. diamond melee, price on request; Rahaminov
Vivian engagement ring in platinum and 18k rose gold with 0.5 ct. pink diamond center, $31,374; Yael Designs
Ring in 18k white and rose gold with 0.37 ct.  fancy intense purplish pink diamond and 0.3 ct. t.w. pavé diamonds, $70,000; VTse
News Source : jckonline.com