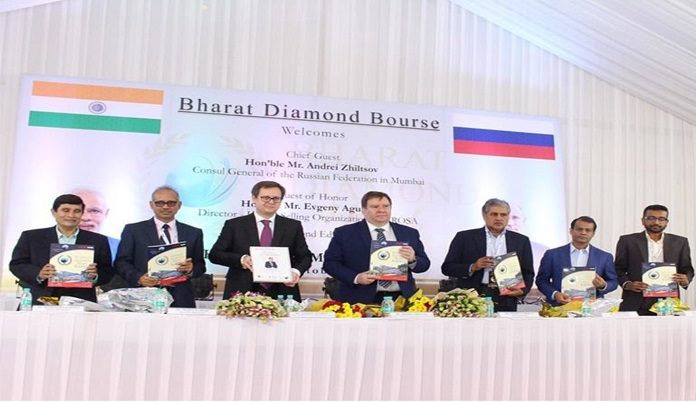 Polished diamond fair to host delegations from China, Australia and Asian countries
The Bharat Diamond Bourse (BDB) in Mumbai has announced that registration is now open for the 2019 Bharat Diamond Week (BDW) which takes place at the bourse from 14 to16 October. The third edition of the event, following the two shows held last year, will host delegations of buyers from China, Australia, and various Asian countries, which will greatly increase the number of buyers, the organizers said.
The second edition of the Bharat Diamond Week last October hosted more than 1,000 visitors from India and across the world who did business with 150 Indian exhibitors of polished goods.
Bharat Diamond Bourse Vice-President Mehul Shah, who heads the Bharat Diamond Week, said: "Preparations are well in hand with the opening of registration. In addition to hosting delegations of foreign buyers which are being specially organised, we will welcome buyers from Israel, Dubai and several European countries as well as from across India."
BDB President Anoop Mehta explains that the show dates were selected because they are just ahead of the Diwali festival, meaning visiting buyers will find excellent deals as exhibitors will be looking to sell goods before closing their businesses for several weeks for the holiday.
"Our Guest of Honour at the diamond fair will be Lin Qiang, the Vice President of WFDB and President of the Shanghai Diamond Exchange (SDE), who will bring members of the SDE with him. I would like to thank my fellow diamond exchange president for agreeing to open the fair. I believe this is another step in broadening our links with the Shanghai Diamond Exchange which is an important part of the global diamond family," Mr Mehta added.
"In addition, as with the two previous shows, the Bharat Diamond Bourse will provide selected buyers with complimentary hotel accommodation." Mr. Shah said a major aim of the fair is to create maximum coverage for the BDB's small and medium-size companies. "As with the shows last year, we are offering an opportunity to our SME's to exhibit their goods to a global audience. This is an inter- bourse show which proved to be a highly successful concept last year. We are building on those first two shows to take it to the next level with higher numbers of exhibitors and many more buyers expected.
"In addition to visiting the showground in the BDB's specially constructed large Bharat Diamond Week venue, visitors will have the opportunity to get to know many more of the BDB's 2,500 businesses who can supply them with absolutely any diamond they need in any shape, size or colour. Each Indian company that wins the right to display at the Bharat Diamond Week is entitled to one booth only. Trading of synthetic or lab-grown diamonds is banned in the BDB, so there will not be any such diamonds at BDW."
Mr Mehta added: "The Bharat Diamond Week showcases the beautiful gems created for a global audience in the world's biggest and most important cutting and polishing centre. We aim to put buyers directly in touch with suppliers in a convenient setting, saving time and expenses as the exhibitors and their goods can be easily and quickly found, thus making the fair an efficient visit. We have approximately 150 complementary hotel rooms available for foreign buyers, so I would advise members of the global diamond industry to register straight away. Priority will be given to visitors who are members of bourses affiliated to the World Federation of Diamond Bourses (WFDB), but all members of the diamond trade across the world are welcome to participate, Mr Mehta added.