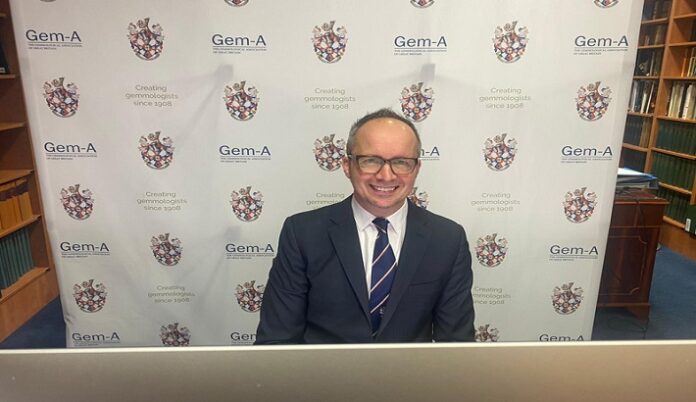 Gem-A (the Gemmological Association of Great Britain) hosted its first virtual annual general meeting (AGM) on 16 December 2020, giving international members the opportunity to discuss what has been a challenging year in the Association's long history.
The online AGM was attended by more than 50 members from across the globe, who were invited to vote on resolutions in advance via Civica Election Services.
The results of key resolutions were announced during the digital AGM, which was hosted by Gem-A chief executive officer and board secretary, Alan Hart, from the Gem-A Sir James Walton Library in Hatton Garden, London.
During the AGM, Hart offered a review of 2020 and spoke about the impact of Covid-19 on its global operations, and provisions made to support its international Accredited Teaching Centres during this pandemic.
Questions submitted in advance were answered honestly and the AGM ended on a positive note, with members acknowledging the unprecedented challenges of 2020, the need to take bold actions to protect the future of the Association, and the resilience of the Association as it enters the New Year.
Gem-A CEO, Alan Hart, commented "Our annual general meetings are normally hosted in-person to coincide with our Gem-A Graduation Ceremony and Gem-A Conference.
"The impact of Covid-19 has disrupted these in-person events, as it has done for so many organisations across the world.
"To ensure we can continue as normally as possible, we opted to host our AGM via a virtual meeting, which was a great success.
"We enjoyed strong participation from our membership and were able to answer a range of questions submitted in advance.
"This now sets us in a strong position to forge ahead in 2021 and put the stresses and strains of 2020 behind us."
The AGM also provided the opportunity to elect and/or re-elect Gem-A council members who contribute to the successful growth and development of the Association.
Justine Carmody and Maggie Campbell Pedersen were both re-elected as Gem-A council chairperson and council president, respectively, with a voting majority.
Elsewhere, Philip Sadler and Louise Goldring were also re-elected to their positions on the Gem-A council, both with a majority.
Hart continues: "I would like to personally thank all our members, global Accredited Teaching Centres and Gem-A partners for their continuing support and collaboration.
"The last 12 months have taught us many lessons, and we look forward to continuing in our mission to provide exceptional gemmology education worldwide in 2021.
"We will be offering Online Distance Learning (ODL) courses and 'blended learning' courses, with a mixture of online and in-person teaching, to support a complete range of students, no matter where they are in the world."
Gem-A will continue to offer its online courses and in-person courses at its London HQ from January 2021.
News Source : professionaljeweller