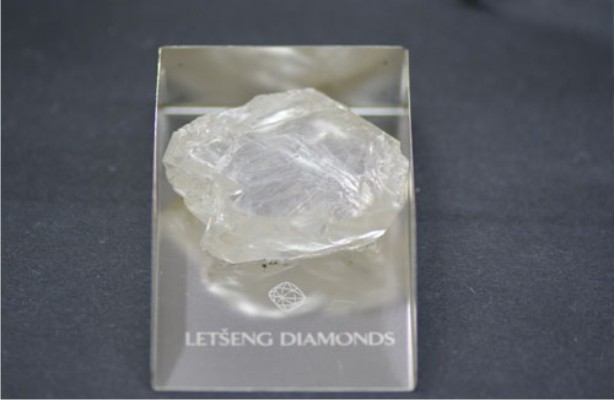 Announcing its financial and operational results for the year ending 31 December 2017, Gem Diamonds Limited reported a dip in profit (pre-exceptional items) to US$ 20.8 million (2016: US$ 32.4 mn) on revenue of US$ 214.3 mn (2016: US$ 189.8 mn).
The Company operates the Letšeng mine in Lesotho, which it describes as the highest dollar per carat kimberlite diamond mine in the world. During 2017, it recovered seven diamonds larger than 100 carats each recovered (five in 2016), with a "significant improvement" in the recovery rate during the second half of the year post "operational improvements".
Besides these there were a 7.87 carat pink diamond that achieved US$ 202 222 per carat, making it the second highest price per carat achieved by a Letšeng rough diamond and a 58.38 carat white diamond that achieved US$ 61 905 per carat, making it the highest price per carat achieved for a Letšeng rough white diamond for 2017.
The Company said that the underlying EBITDA pre-exceptional items was US$ 48.6 mn (2016: US$ 62.8 mn) and attributable profit (pre-exceptional items) was US$ 9.1 mn (2016: US$17.7 mn). Including exceptional items of US$ 3.6 million, attributable profit was US$ 5.5 million and earnings per share was 4.0 US cents. Cash on hand as at 31 December 2017 was US$ 47.7 mn (US$ 35.2 mn attributable to Gem Diamonds).
Clifford Elphick, Chief Executive of Gem Diamonds, said: "The market for the (Letšeng) mine's large, high quality white rough diamonds remained strong over the course of 2017, a trend which has continued into early 2018."
He added, "The focus on enhancing the efficiency of our operations identified a potential of US$ 20.0 million of annualised and once-off efficiency and cost reduction initiatives at the end of last year. A target has now been set of obtaining US$ 100.0 million of cash savings by the end of 2021, with an ongoing target of US$30.0 million per year thereafter."
In a separate development, Gem Diamonds also announced yesterday that it had recovered a 169 carat, top white colour Type IIa diamond from the Letšeng mine, the seventh diamond of over 100 carats recovered in 2018.
Pic caption: The 169 ct diamond
Pic courtesy: Gem Diamonds
News Source : gjepc.org