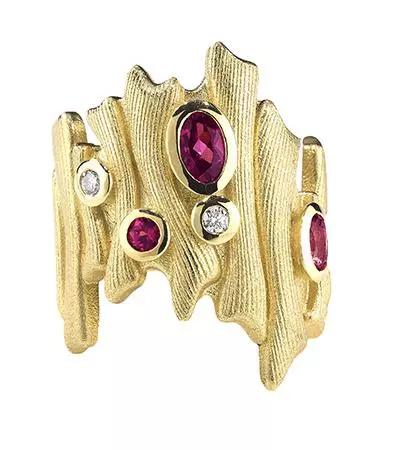 Onetime engineer Jill Maurer traded in software for silver with her three-year-old eponymous jewelry design firm. Maurer is inspired by archeology and cave drawings, and she sometimes makes her jewels with CAD/CAM.
"I love to use my 3-D printer for modeling," she concedes. "Don't be surprised to find me wearing 3-D–printed jewelry. I'm beta testing."
Maurer works in silver, 14k and 18k gold, and platinum, and because of her affinity for historical connections, she uses only natural gems, some with inclusions.
She earned a 2016 Summer AGTA Spectrum Award for her Verge ring in the Entry Platinum Innovation category of Business/Day Wear. Also of interest: Her line is shaping up to be unisex. "My pieces sell about 60 percent to men and 40 percent to women," she observes. "One advantage of my line is that the store can attract male customers without giving up case space for female customers."
Starting retail price: $250 in sterling silver, $1,100 in 18k gold, and $1,800 in platinum
Accounts: Four in the United States, including Worthmore Jewelers in Atlanta and Jewelstreet.com
Trade fairs: JA New York, Atlanta Jewelry Show, and JCK Las Vegas
Retailer buy-in: $5,000
Contact: Jill Maurer, Raleigh, N.C.; 919-926-1100; jillmaurer.com
Stampede necklace in sterling silver depicting an ancient cave wall carving, $895
Zebu (left) and Brahma (right) ears studs in 18k yellow gold, $1,280 and $912, respectively, for singles
Palisade ring in 18k yellow gold with 0.98 ct. rhodolite garnet and 0.12 ct. t.w. diamonds, $4,750
The Style 360 blog is your editorial source for the newest jewelry, trends, fashion, market analysis, trade show insights, designer profiles, and more.
News Source : jckonline.com