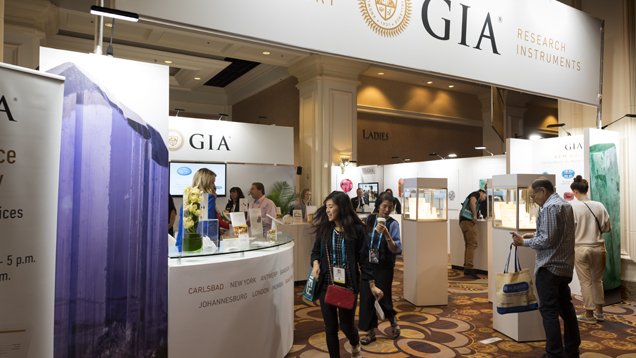 The Gemological Institute of America (GIA) has announced that it will be presenting an in-depth look of the GIA M2M™ – a new service that tells the digital story of a diamond, and also display a prototype of a soon-to-be-released new easy-to-operate instrument to identify mounted and loose natural diamonds at the JCK Show which will be held at Las Vegas from June 5-8, 2017.
These innovations will be introduced to the trade at the GIA booth as well as through other talks and educational programmes held along with the main show.
GIA said that its M2M service "allows everyone along the diamond value chain to tell the digital story of a diamond". The service, which has been under development for some years, gives consumers a new way to learn their diamonds' history through a digital storytelling platform and app. M2M provides a close look into all the chapters of a diamond's story – from the mine, through the cutting process, and to the market, GIA said.
There will be two presentations on the service by GIA Vice President of Laboratory Operations Matt Crimmin.
Separately there will be three presentation by GIA Executive Vice President and Chief Laboratory and Research Officer Tom Moses and GIA research scientist Dr. Evan Smith, lead author of a recent Science magazine cover story on diamond geology on the latest GIA synthetic diamond research and GIA's new detection device for mounted and loose natural diamonds.
GIA Global Director of Colored Stone Services Shane McClure will share insights on important colored stone developments. McClure, also a member of GIA's research team, will offer an update on the GIA laboratory, research efforts at the Institute and other timely topics.
The organisation said that its representatives will also be present at GIA's booth to discuss education offerings and laboratory services for companies and professionals in the gem and jewellery industry; share information about GIA's Retailer Support Program's educational materials, web apps and point-of-sale aids; and help attendees register for GIA's Retailer Lookup, an online listing that allows customers worldwide to find local stores that sell GIA-graded diamonds or have GIA-trained staff.
There will also be presentations on coloured stone services available at the GIA Show Service Laboratory; striking displays of synthetic diamonds and a miniature symphony of gems; and free in-booth briefings on must-know industry topics.
Pic caption: GIA Booth at earlier JCK Show
News Source: gjepc.org