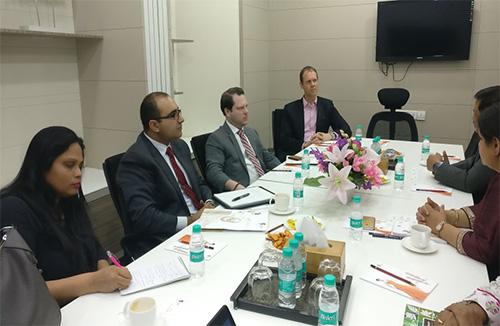 A team of officials from the US Embassy in Delhi and the US Consulate in Mumbai today visited the GJEPC office in Mumbai where they held discussions on a number of issues with the GJEPC Secretariat.
During the meeting, Sabyasachi Ray, ED made a presentation on the Indian gem and jewellery industry with some details of each of the key centres such as Mumbai, Surat, Jaipur and SEEPZ Mumbai. He also touched upon exports to the US and India's key role in the global diamond industry. He also spoke about demonetization as one of the initiatives taken by the government towards curbing money laundering used for terrorist funding.
Describing the activities and role of the Council, Ray also outlined the details and advantages of the latest initiative, MyKYC Bank. He requested the officials to provide Visa assistance to exhibitors at the JCK show.
The US officials discussed various issues such as impact of demonetisation, illegal / undisclosed mixing of lab grown diamonds into natural diamonds, the policy on conflict minerals specially for gold, and the general value addition norms for the diamond industry.
GJEPC also requested USA to look into the possibility of identifying separate 8 / 10 digit IT HS Codes under7104 for lab grown diamonds. as has already been done by China and India
The US team included James Henderson, Second Secretary, U.S. Embassy, New Delhi; Firend Zora, Economic Officer, U.S. Consulate Mumbai; David Moo, Economic Officer, U.S. Consulate Mumbai and Trisha Chilimbi, Economic Specialist, U.S. Consulate Mumbai. Council was represented by Sabyasachi Ray, ED; Dolly Choudhary, Dy. Director; and Kavita Hebalkar, Dy. Director.
News Source : gjepc.org