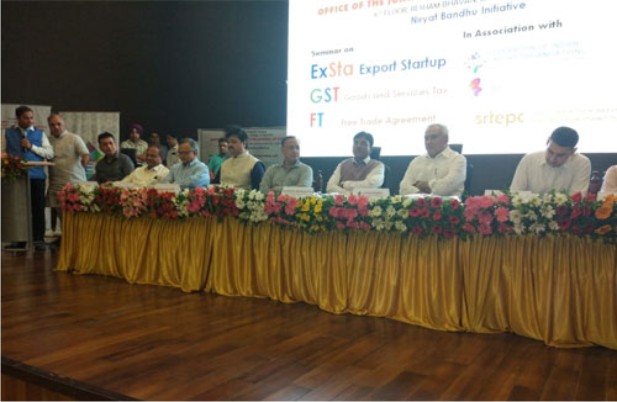 The Gem & Jewellery Export Promotion Council (GJEPC) hosted two seminars – in Jaipur on June 15 and Surat on June 16– on various issues related to the promotion of exports.
The Surat seminar, hosted jointly with DGFT, had Hon'ble Union Minister of State for Road Transport & Highways, Shipping, Chemical & Fertilizers, Shri Mansukh Mandaviya and Hon'ble Union Minister of State for Commerce & Industry, Shri C. R. Chaudhary as the Chief Guests. Hon'ble Mayor of Surat Dr. Jagdish Patel & other eminent dignitaries of Surat & Gujarat were also on the dais.
Shri Chaudhary outlined the multiple initiatives taken by the central government and emphasized the need to deliver quality and achieve excellence. Shri Mandaviya encouraged local traders/manufacturers to become international players by entering the export business and assured all possible support to help them achieve this goal.
The Key Note address was delivered by Shri Suvidh Shah, Deputy DGFT, Rajkotcovering topics like Export Cycle and Start-up, Foreign Trade Agreement, Goods & Services Tax, etc.The presentation covered many basic issues to enable even new entrants to the industry to get an in-depth understanding of these areas.
Regional Chairman Shri Dinesh Navadiya apprised the audience about the different initiatives taken by GJEPC in Gujarat region and how GJEPC acted as catalysts for the growth of export of G&J products.
Over 500 potential exporters from the in and around the city and nearly 150 GJEPC members attended the seminar.
Earlier in the day, GJEPC: Regional Chairman Shri Dinesh Navadiya and Committee members of Gujarat region met Shri C. R. Chaudhary with representations related to issues of bank finance, accumulated Input Tax Credit and introduction of Job Work policy for diamond industry, etc. The minister, while agreeing to address these issues,stressed the importance of meeting global product standards and requirements to make Indian goods widely acceptable and boost exports as well as employment.
On June 15, GJEPC Rajasthan region organised an MSME Seminar which was addressed by Chief GuestShri Virendra Singh, Jt. DGFT, Jaipur, Shri Pradeep Ojha, Dy. Director, MSME, Shri Avindra Laddha, Jt. Director, Industries, Government of Rajasthan, Shri Prateek Chaturvedi, NSIC, Shri Nitin Dumasia, Consultant, Lean Manufacturing Competitive Scheme, and Shri Naren Kotak, Edelweiss.
The presentationscovered topics like scheme of Rajasthan Government to reimburse ground rent paid for participation in overseas exhibitions, various MSME Schemes, NSIC Schemes to provide grants for participating in domestic and overseas exhibitions, Lean manufacturing competitiveness scheme, Swasthya Ratna policy, Swasthya Kosh, Parichay card etc.
Over 50 member-exporters attended the seminar.
Pic caption: Dignitaries on the dais at the Surat seminar organised by GJEPC
News Source : gjepc.org