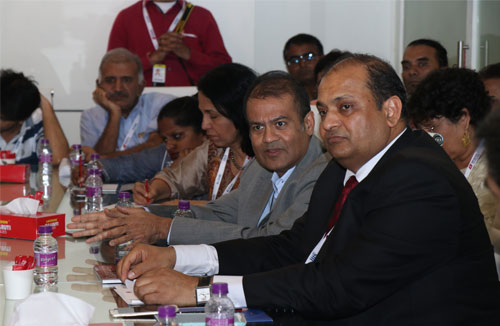 At a press conference and interaction held at the venue of the Signature IIJS 2018 on February 10, 2018, Chairman of The Gem & Jewellery Export Promotion Council (GJEPC), Pramod Agarwal said in his opening statement that the GJEPC was working towards the all-round growth of the gems and jewellery industry.
"The industry is facing several challenges," said Agarwal. "These include those related to policy, sales growth and so on. We are working closely with the Government of India to see that we resolve the various issues facing the industry. We would also like to see that there is development on all fronts including technology, development of new markets, skill upgradation and even CSR activities. The Council already has several programmes in place towards achieving this aim, and, in due course, we will introduce new initiatives as well."
The Chairman was joined at the conference by the Vice Chairman of the GJEPC Colin Shah; and the Convenor of the Exhibitions Sub-Committee of the GJEPC, Shailesh Sangani. The international and national press attending the conference had a meaningful and lively exchange with the three representatives of the Council on a variety of topics.
In response to a question on the future growth of the industry, Agarwal said that they expected a 15%-20% growth for the gems and jewellery export sector y-o-y in the next year.
Clarifying on the reduction of GST on rough and polished diamonds and its impact on industry performance, Shah said that it would only be positive as there would be less capital tied up. To that extent it had led to ease of doing business.
Sangani, in reply to a question on business conducted onsite, explained that there was brisk business taking place at the Signature IIJS; and there were many buyers both from India and abroad who had placed sizeable orders. On another point, he said, both Signature and the main IIJS had long waiting lists of exhibitors desirous of participating in the shows and the Council was doing its best to see how it could expand the Signature show.
Pic Cap:
GJEPC VIce Chairman Colin Shah speaking at the press conference. Seen (right) GJEPC Chairman Pramod Agarwal
News Source : gjepc.org