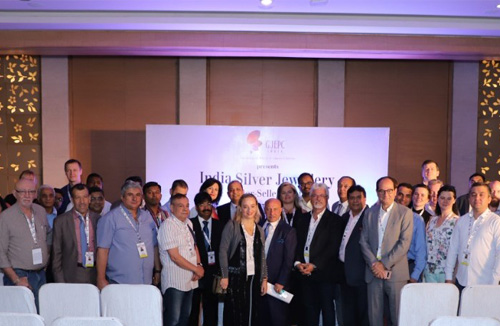 The first-ever India Silver Jewellery Buyer-Seller Meet was inaugurated this morning in Delhi by Shri Sentilnathan, Dy. Secretary, Ministry of Commerce & Industry, Govt. of India in the presence of GJEPC Chairman Shri Pramod Agrawal and other dignitaries. The three-day event brings together 49 international buyer companies and 27 leading Indian silver jewellery manufacturers with the aim of establishing new relationships and strengthening existing ones, to promote the business globally.
Also present at the inauguration were Shri Dilip Shah, Convener International Events, GJEPC, Shri Ashok Seth Northern Regional Chairman and Shri Ram Babu Gupta, Convener Silver Jewellery Panel Committee.
The buyers include silver jewellery wholesalers, importers, retailers and traders from Algeria, Australia, Egypt, Ireland, Jordan, UAE, UK, Uzbekistan, Kazakhstan, Kenya, Lebanon, Oman, Russia, Singapore, Spain, Sri Lanka and Tanzania.
During the first two days, the buyers and sellers will interact through a pre-defined schedule of one-to-one meetings of approximately 30 minutes, while the third day will see open interaction between both sides.
Presenting the Welcome Address, the GJEPC Chairman said that India is one of the leading exporters of silver jewellery in the world with exports of US$ 3.38 billion during the year 2017-18. In recent years, the demand for Made in India silver jewellery has grown worldwide due to the variety of designs on offer, which are not only affordable and light weight, but are also combined with the bold use of diamonds and coloured gemstones to add value.
He said that the unique format of the event allowed the exhibitors to showcase their capabilities in designing and manufacturing products catering to the world market, while it also gave the buyers an opportunity to learn more about the Indian silver sector, understand the supply chain, business practices and culture.
Delivering the Vote of Thanks, Dilip Shah expressed the confidence that exhibitors would use this opportunity to build their networks and improve trade relationships with buyers from various countries present. He added that considering the interest seen among buyers, the Council would plan more such events in the future.
Pic caption: Dignitaries seen with the participants at GJEPC's first-ever India Silver Buyer-Seller Meet
News Source: gjepc.org