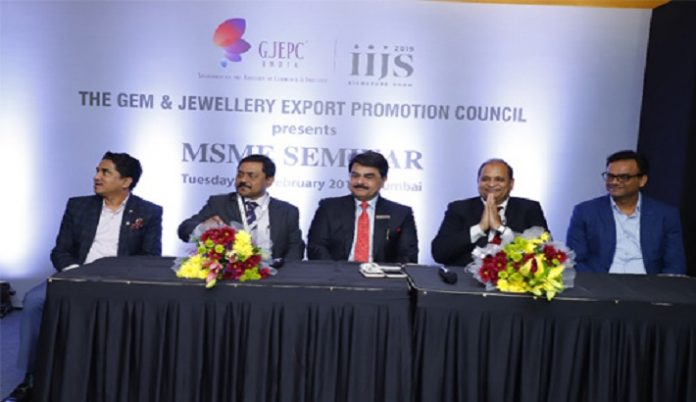 The special MSME Seminar organised by GJEPC at the Signature IIJS venue on Tuesday, February 12 provided an insightful introduction into the vast opportunities that have opened for small entrepreneurs in today's modern economy, as well as an overview of the government schemes to encourage growth in the sector,
Two experts from the field, Shri Rajiv Chawla, Chairman and Founder, IamSMEofindia and Shri P. Krishnamohan, Dy GM of The National Small Industries Corporation, spoke about the needs of the sector and the different schemes available under various government programmes.
GJEPC Chairman Shri Pramod Agrawal, in his brief welcome remarks, said that MSME units were the backbone of the industry, and could be the engine for future growth if they were given proper support to upgrade and enhance their capabilities.
In a detailed presentation, Shri Chawla looked at the changing nature of the manufacturing sector worldwide. He said that technology was bringing about major 'disruptive' changes and mega factories and manufacturing plants were fast getting extinct, just as had happened to the all-powerful dinosaurs, many millions of years ago.
He explained how small entrepreneurs could become powerful agents of change if they adopted a collaborative approach and were willing to face the challenges and scale up their operations. "Governments at both the centre and the states are willing to facilitate this transformation, and offer different types of support, including many financial incentives," he said, asking those present to find out more and take advantage to speed up the transformation of the sector.
Shri Chawla than outlined in detail the various MSME schemes and support programs provided by IamSMEofIndia such as:
Lean Manufacturing Competitiveness Scheme
Cluster Development Scheme/Cluster Project
Design Support scheme
Intellectual Property Rights IPR Centres
Scalability
New Marketing Strategy
Use of Technology
Financial Literacy, including Transparency and Alternate Finance Options
Team Building, Training & Retaining Talent
New Laws, New Compliances, Cyber Security, Risk Management, Succession Planning
Networking with Knowledge Centres, Universities, Institutions.
He went on to add that the organisation would provide financial assistance of up to Rs. 75 lakhs per unit collateral free if they formed clusters with a minimum number of companies under the IamSMEofIndia umbrella. The organisation would provide assistance in all the formalities required, he added, stating that till date the total loans given to SME's under IamSMEof India was over Rs 100 crore.
Shri Krishnamohan gave a brief overview of the role that NSIC played in supporting the MSME sector, and said that there were various NSIC schemes for the sector, including:
Credit Facilitation through banks
Single Point Registration
Procurement & Marketing Support
He gave details of the exhibition grants NSIC provides and also spoke about the consortium of banks it has tied up with to smoothen the process of loans to MSMEs.
Of its existing schemes, Shri Krishnamohan pointed to the organisations's role in helping small units get finance from banks, and to raw material procurement scheme which was shortly being extended to cover silver. Both these could be used by small gem and jewellery units, he added.
Shri. Kamlesh Vyas and Shri. Rajesh Vyas of Ram Jewels, the first 'Zero-Defect, Zero-Effect' MSME in the G&J sector, shared their experiences in availing of benefits through the various MSME schemes offered, particularly focusing on the lean manufacturing competitiveness scheme and ZED scheme.
While Shri Mithlesh Pandey, Head, MSME, GJEPC welcomed the speakers, Shri Manish Jivani, Convener, MSME Committee, GJEPC presented the Vote of Thanks.
NewsSource: gjepc