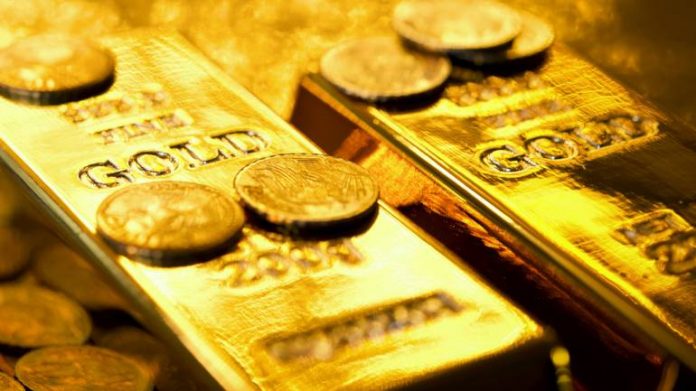 Spot gold was mostly unchanged at $1,184.24 an ounce at 0037 GMT. Last week, it touched its lowest since January 2017 at $1,159.96.
The metal fell 2.2 per cent last week, recording a sixth consecutive weekly decline. It was also gold's worst weekly performance since December 2017.
US gold futures were up 0.6 per cent at $1,191.60 an ounce.
Gold has tumbled over 14 per cent from its April high as a rally in the greenback made dollar-priced bullion more expensive for buyers using other currencies.
Investors seeking a safe place to store assets amid trade disputes and a Turkish currency crisis have preferred the dollar to gold, undermining the reputation of bullion as a safe-haven.
However, news of planned US-China trade talks and a partial recovery in Turkey's lira have steadied investor nerves slightly.
The dollar index, which measures the greenback against a basket of six currencies, was mostly flat at 96.125 on Monday, after hitting its highest since June 2017 last week. The index suffered its worst one-day decline in nearly a month on Friday.
China and the United States will hold lower-level trade talks this week to resolve an escalating tariff war that threatens to engulf all trade between the world's two largest economies. The Turkish central bank will allow gold for foreign exchange and location swap deals in order to provide physical gold transactions at its Istanbul and Ankara branches, a document sent by central bank to Turkish banks said. Hedge funds and money managers increased their net short position in COMEX gold contracts for the sixth straight week to another record in the week to Aug. 14, US Commodity Futures Trading Commission (CFTC) data showed on Friday. Holdings of SPDR Gold Trust, the world's largest gold-backed exchange-traded fund, fell 0.15 per cent to 772.24 tonnes on Friday from 773.41 tonnes on Thursday. Physical gold demand in India regained momentum last week as jewellers stocked up after prices dipped to their lowest in over seven months, with lower prices attracting fresh buying and driving premiums higher in other major Asian hubs as well.
News Source : economictimes.indiatimes.com